Wrestling success built on high standards, future drive toward teamwork
The keys to success as explained by their senior leader
   The wrestling program has been successful over the past two years by claiming the 2020 and 2021 conference championships while also earning the title of 2021 District Champions. Beyond the team honors, they had five individuals places at the state meet with one making it to the state finals.
In 2022, the team had three state qualifiers and its first State Champion since 2008, Senior Adam Haselius. Haselius and head coach Bruce Gumbert understand what has made them victorious. It is their mindset and having the grit to push through any situation.
"I have been coaching since 2010. I had two years at the middle school, three years as the varsity assistant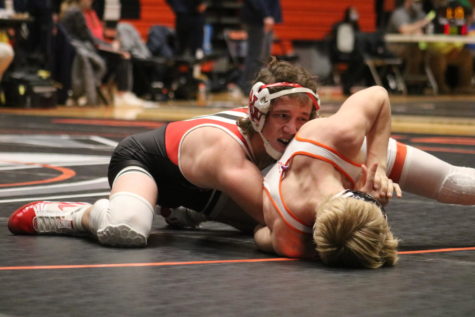 and this is my seventh year as the head Varsity coach," said Gumbert. With this experience, he understands the team's recent success.
"I think we are successful because, in the past few years, we solidified the #4THETEAM mentality, along with our amazing youth program with dedicated wrestlers and coaches."
   The Mountie program has prioritized mentality, basic body confidence as well as time on the mat to make them triumphant. 
   "I have been wrestling for 12 years; I started when I was five years old," said Haselius. "I believe our team is on the verge of great success. We have developed an amazing work ethic and a positive mentality." 
   To develop an outstanding team, athletes must put in the time on and off the mat. 
   In addition, Haselius and Gumbert both know the importance of leadership. They must have someone set the standard and then push everyone else to reach their full potential. Also, Haselius and Gumbert agree that being a good teammate during practice and helping others keep their positive mindsets is important. But, focus on the basics can not be overlooked.
   "Drilling the basics and not just focusing on being a wrestler is extremely important,"  said Gumbert. 
   Learning the basics helps a wrestler to withstand or get out of certain moves or situations. Having this support system and being able to learn from each other have helped in this program's success. 
   "I make sure to be a good teammate, offering my knowledge when someone needs help and being an example that my teammates can follow during practice," said Haselius. 
   Through his 12 seasons of wrestling, Haselius has grown to love working for his team. Haselius explains how wrestlers compete individually, but as a team, they form a tight bond. All successful athletes push themselves, but for the team to become special, individuals must support each other. 
   "Success is determined by the effort of the individual for the team, " said Gumbert. 
   As the team prepares for the new season, mentality, leadership, and teamwork will continue to be essential. Coach Gumbert and Haselius hope the team can continue that tradition.