Jazz and Pep bands look to continue legacy
   After years of great success, both the Jazz and Pep bands' legacies look to be continued.
   Band Director Bryan Mangiavellano has found great success in teaching and is widely loved by students and staff throughout the community. After 19 years, he still enjoys each new band.
   ¨I love that every day and every year is different. It keeps things fresh and spontaneous,¨ said Mangiavellano.
   Back in the 1950s, Herbert Rowland started these bands to give children more opportunities to enjoy the arts and have fun while participating in an activity. His legacy continues today as both the Jazz and Pep bands are still thriving. 
   The current Pep band is made up of a small group of students who go to basketball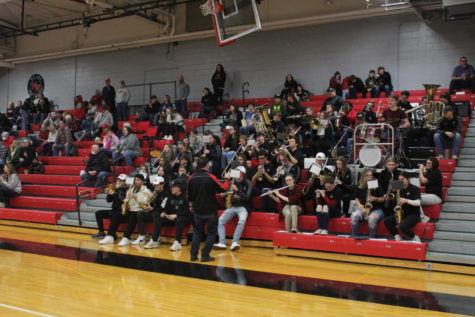 games and a few hockey games to support the teams, which is similar to the marching band during football games.
   Senior trumpet player Kiegan Cowan has been a part of the Pep band for two years and thoroughly enjoys it.
   "Pep band has a great atmosphere. Everyone is just going for it all and trying to cheer on the basketball and hockey teams as much as possible," said Cowan.
   The success of this group is evident in the feedback from the crowd. 
   During the winter, many band members also have the opportunity to be part of the jazz band and express their musicality through jazz. 
   Freshman Will Atwood has been playing in the Jazz band since seventh grade and loves traveling and performing in front of different schools.
   ¨Every year, we head out for a Jazz Festival in the town of Hastings, and it's so fun to perform and converse with other jazz bands," said Atwood.
   The Jazz Band consists of two groups, Jazz Band 1 and Jazz Band 2. The first group is a tryout band with some of the highest-achieving players in the school. However, group 2 is for others who want to play some of the coolest instruments in a jazzy, fun way.
   Cowan has been in the Jazz Band 1 since his freshman year and decided to stick with it for the rest of his high school career after being rewarded with a sense of greatness he feels each time he plays.
   "The jazz band is really chill, and everyone there has always been super cool. The music is fun, in my opinion, and the soloing is great," said Cowan.
   Overall, Jazz often goes through stressful patches in preparing for festivals. Still, they are granted unforgettable memories while hosting events such as the Chili and Jazz and traveling to Hastings for Jazz Festival.
   After 70 years, these bands continue to have high involvement and strive to keep the legacy of excellence with the hope of keeping traditions for future musicians.