Advanced Placement has advantages over Dual Enrollment
Face to face teaching in AP outweighs online learning
   Deciding between an Advanced Placement (AP) college credit class and a Dual Enrollment college class can be a daunting decision for any student because there are several pros and cons.
   AP credits are ideal for students uncertain about where to continue their education after high school. Almost every school in the United States accepts AP credits, but few out-of-state schools will accept Dual Enrollment college credits. Unfortunately, even some schools in Michigan will not accept them. 
   In addition, Dual Enrollment can provide a steep learning curve for students who would benefit more from face-to-face teachers and asking in-person questions.
   AP Language and Comprehension (AP Lang) teacher Becky Bortnichak has taught AP for 10 years, and she views learning through a computer as limited.
   "They [students] have to learn how to interact with their Professor, or their TA, or with their classmates. There is something to be said for those interpersonal skills and those intrapersonal skills," said Bortnichak. "I do not necessarily think that a student just learning through this computer has that foundation. I definitely think that if they are going to continue their education post-high school, their education could really be affected."
   Due to the COVID-19 pandemic, students were deprived of face-to-face learning for almost two years. Adding on a Dual enrollment class where there is absolutely no in-person contact with the teacher is only adding to the problem. 
   When deprived of face-to-face contact, Dual Enrollment students lack the communication skills needed to prevail through college. This can put them in a steep decline as they attempt to further their education. 
   "AP classes are for the student who wants to build relationships with their peers and teachers, and they really want to challenge themselves beyond just getting the grade," said Bortnichak. 
   AP classes also seem to be focused much more on learning retention, with the classes taking place over a larger amount of time and centered around preparing students for the AP final exam.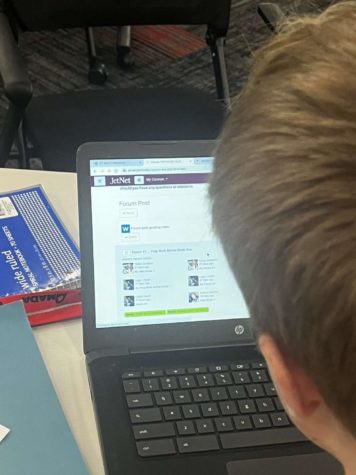 Junior Aaron Hoaglin signed up to take a Dual Enrollment Psychology class and shares similar opinions with Bortnichak. Both noticed a difference in how the curriculums are taught, with one being more fast-paced than the other.
   "I believe that you learn more in AP classes because it is face-to-face and over a longer period of time, while in Dual Enrollment, you are thrown into it and have to figure it out yourself," said Hoaglin. 
   In Dual Enrollment classes, students are given more time to complete their assignments, but when they are just skimming through note slides and filling in answers, they are not truly learning the material.
   Junior Ivy Chen decided to take AP Lang. as well as AP Psychology to further challenge herself academically.
   "AP classes are more for risk-takers because the grade you are going to get is not certain compared to a Dual Enrollment class. If you do the assignments in Dual and you pass the class, you automatically get credits," said Chen. 
   Furthermore, AP classes challenge students and provide more opportunities to improve as scholars and individuals. Whereas in a Dual Enrollment class, it seems the only reason a student would take the class is to get the grade and credits rather than to further their capabilities as a student.