Bowling prodigy inspired by father's example
Senior seeks 1st Team All-State honors
   All-state bowler, Senior Ryan Wenman, has been surrounded by bowling most of his life. Wenman was introduced to the sport at the early age of two when his parents let him try it. It was their free time hobby, but it would soon be more.
   Wenman grew up watching his father bowl and seeing how successful he became inspired him to pursue the sport himself. When he was a child, Wenman would often tell his dad that one day he would be better than him. It helped drive him to improve as a child bowler.
   Wenman recalls winning his first award for bowling at around five years old. Since then, he has competed in numerous competitions.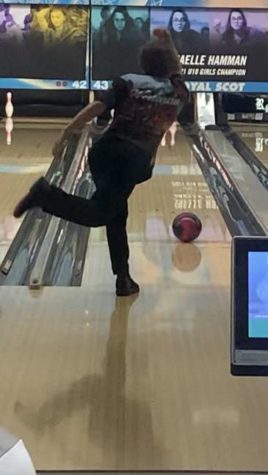 "Making it to my first big tournament when I was really young and almost winning gave me a taste for what it feels like to win," said Wenman. "It made me push myself harder to actually start winning the tournaments I competed in."
  In high school, Wenman has been named 2nd Team All-State for two years, and he is in the top one-third of bowlers nationally. Wenman has put in countless hours in the offseason and regular season to improve his skills and earn the recognition that he has received.
   For his final high school season, Wenman's main goal is to make 1st Team All-State so he can finish his high school career on top. 
    Since the beginning, Wenman's father has taught him almost everything he knows about the sport of bowling. He has helped guide him through the highs and lows. 
   "He has helped me through the hard days and has always been in my corner no matter how rough things have gotten," said Wenman.
   After high school, Wenman plans to continue his bowling career in college. Currently, his top choice is Spring Arbor University. Wenman has not been interested in any other college at the moment, but that may change after his final season of high school bowling.
   After graduating from college, Wenman does not plan to go into professional bowling. Instead, he plans to further his business education to become a real estate agent.
   Wenman doubts he will leave the sport behind when he graduates from college. Wenman plans to continue bowling on the side when there are tournaments in his area. He does not plan to let his love for bowling die, no matter what path he takes in life.