Student leadership group led by student involvement
A closer look at the STORM group
   Student Team Of Renaissance Mounties (STORM) takes pride in their school and community. Everything from Homecoming, Snowfest, and assemblies, STORM has got it covered. 
   This student-led group was formally known as Student Government but converted to STORM in 2020. Advisor Emily Stepke was the first teacher to guide this group under the new name.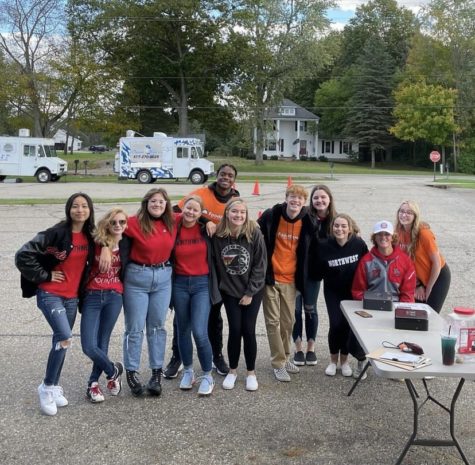 "I enjoy working with a diverse group of students to make our school a better community," said Stepke. 
   STORM members are required to deal with difficult conversations and situations and be able to work under pressure. 
   The group undergoes leadership training to develop their leadership skills. Additionally, the students are provided countless service hour opportunities to put their expertise to work. 
   Acts of service being a huge part of the program, each member of STORM is required to achieve 24 hours of service by the end of the school year. Each hour needs to be for STORM-related activities. 
  Some ways the students can acquire this amount of service hours is through concessions, working Homecoming or Snowfest events, or running their own food truck rallies. Sophomore Olivia Lounds has been a part of STORM for two years and enjoys service-orientated projects. 
   "Not only am I receiving service hours, but I am genuinely having a good time," said Lounds.
   Responsible, hardworking, dedicated, and strong self-management skills are just a few of the characteristics a STORM member needs to possess. 
   Senior Braylee Bevier has been a part of this group for three years and strives to create a positive space for the student body. 
   "STORM has definitely helped shape me into the leader I am today," said Bevier. "Being a member of STORM means that you are a role model for everyone else in the building, and includes teachers too." 
   STORM leadership plans major school events, such as Homecoming and Snowfest. There are plenty of committees that these leaders partake in.
   Some include the Fundraising Committee, Principal Task Force, and more. There are also specific roles that members of the group need to tackle. For example, the Social Media and School Board Liaisons. 
   "We try our best to make sure all of the students feel seen, loved, and heard," said Bevier. 
   The future of STORM is decided by the student body. Constantly experimenting and deciding what is successful is based on the student's involvement. 
   "Taking pride in our community, increasing engagement, and radiating positive energy is our main objective," said Stepke. 
   Through trial and error, STORM is constantly pushing to be better. With the goal of building an uplifting community, using school dances and innovative ideas, each member hopes to grow student engagement.