New Netflix show revamps a past popular movie
Well-liked Wednesday series have fans binging
   A girl and her detached human hand have taken the entertainment industry by storm. Becoming the second-most watched Netflix series of all time, people have fallen in love with the renovated characters in the new show, Wednesday. 
   Inspired by the 90s show The Addams Family, you get an insight into the world of Wednesday Addams. Wednesday is monotone with a severe personality and morbid interest. 
   When people are asked why they decided to watch this new show, a common response is that a popular actress, Jenna Ortega, was cast in the lead role. 
   Sophomore Olivia Lounds has kept up with Ortega's projects since she was cast for the 2016 series, Stuck in the Middle. 
   "Jenna Ortega has been in many movies and shows that I really enjoy," said Lounds. "Her performances are refreshing and new." 
   Not only do viewers enjoy watching Ortega, but they also enjoy watching Director Tim Burton's work. His notable projects include Nightmare Before Christmas, Beetlejuice, Edward Scissorhands, and more. 
   "I have always been a fan of Tim Burton and the quality he puts into his work, so I had no doubt that the plot of Wednesday would be less than," said Lounds.
   At the show's beginning, Wednesday is a new student at Nevermore Academy. The school is filled with outcasts, and many peculiar situations are beginning to unfold.  
   The biggest conflict is the unexplainable deaths in the woods. Wednesday makes it her mission to discover who or what is committing these gruesome acts of murder. 
   Junior John Horvath-Frias has seen both The Addams Family and Wednesday. Horvath-Frias, along with others, enjoys the character development within the show.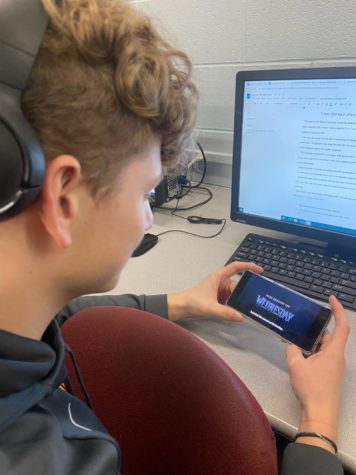 "I liked the personal growth that Wednesday portrayed by the end of the series," said Horvath-Frias. "She gave one of her friends a hug, which is something her character would not typically do." 
   Along with the character development, viewers enjoy the soundtrack. One of the known songs utilized in the show is 'Goo Goo Muck' by The Cramps! 
   During the school dance at Nevermore Academy, Wednesday performs her own unique choreography to this song. Many believe this to be one of the best scenes in the entire show. 
   "My favorite moment in the show was Wednesday dancing," said Lounds. "It was very individual and pleasing to the eye."
   The 1981 tune has had a rebirth since its use in this famous scene in The Addams Family spin-off. 
   The dependable director, favorable sound choices, and the courage it takes to create a descent to such a popular show are all reasons why giving the new show, Wednesday, a shot is reasonable.