Group travels around to discover new cultures
Teachers' offer students opportunities to see the world
   Two teachers, Mrs. Elizabeth Hoffbauer and Miss Tracy Dryer, both love traveling and want their students to experience the world as they do, so they created a school traveling club. 
   When Hoffbauer was 15, she was able to travel with her high school to Spain. This eye-opening experience snowballed into a love for seeing the world.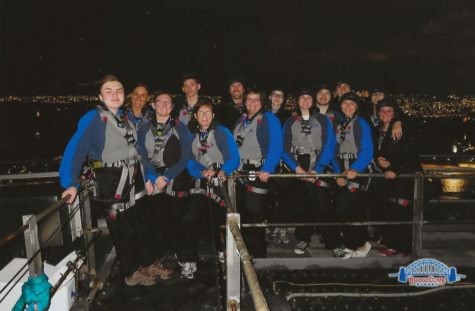 "My trip to Spain changed my life. And I've had an active passport ever since," said Hoffbauer.
She has been to six out of seven continents and hopes to make a visit to Antarctica soon. She has loved going to Costa Rica, Peru, Germany, Italy, Wales, Scotland, and New Zealand.
    Her fellow leader, Dryer, loves traveling to see how other people of the world live their life. 
   "I have always loved learning about other people and places, and traveling has given me the opportunity to do so," said Dryer. 
   Hoffbauer and Dryer decided in 2013 to give students an opportunity to see the world, so they created the club. So far, 60 students and community members have traveled to Costa Rica, England, and Australia. 
   "I want to step foot on each continent.  I have traveled to three so far and will add a fourth [Asia] this summer with our travel club's trip to Thailand," said Dryer.
   This 2023 year, they will go to Thailand in the summer. This trip has been planned for two years so students would be able to afford it. 
   "The trips have ranged from $2,800-$6,100. I had a student work at Taco Bell for a year until he had his trip and spending money covered, then quit the job so he could go to Australia," said Hoffbauer. "The two-year plan helps to reduce the monthly price tag."
   Hoffbauer explains that she is so excited to experience the different cultures in Thailand. Thai food, architecture, landscape, and floating markets are just a few things she is looking forward to.
   While these trips have a hefty price tag, both leaders believe they create lifetime memories that are worth it. 
   "These trips really are lifetime memory makers.  I've never had a participant come back and say, "that wasn't worth it,"  but I have had countless travelers expound about the trips in the most glorious ways, " said Hoffbauer.
   "Whether it's white water rafting, ziplining, or snorkeling the Great Barrier Reef, eating haggis in Scotland, or going up the Eiffel Tower, these are the ways to enrich our lives and realize that we have more in common with others than one would think."
   In addition, both teachers believe that opportunities for students, such as these, are great ways to improve knowledge of other cultures.