Yearbook captures memories while making them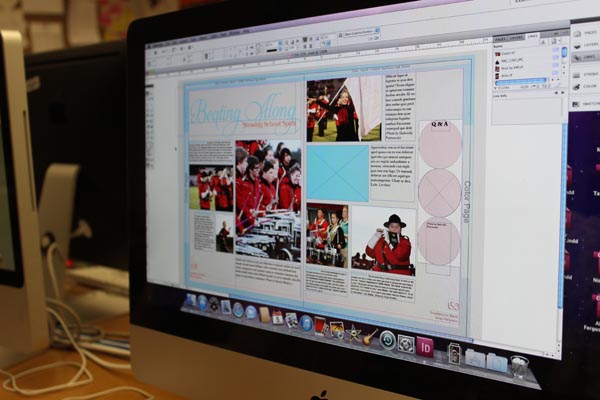 Throughout the year, a staff of students come together to take pictures and put it altogether into a book that is known as the yearbook.
The process is much more than just snapping photos here and there. The book is made up of the help of Photoshop to make the images fit together and InDesign to make up the pages.
Although, the course is taken seriously like a career. It is meant to bring the staff together and their project to life.
"We get photo assignments when there is a lot of going on during the week," said senior Allie Lefere. "There is a required amount of photos needed to be taken, then we are graded on that. Then at the same time you could be working on laying out a page by yourself or with a partner."
There is always hardships throughout every class, with this class deadlines are taken very seriously.
"The most difficult part is meeting all deadlines and raising money for the yearbook," said junior Alyssa Stull.
Yearbook is a yearlong course, which is made up of fun and memories.
"It feels great at the end of the year to see all the work that was accomplished and see how it all came together," said Lefere.
The class is a learning experience, whether it is getting to know each other or getting to know the technology. Every year there is more to discover.
"My favorite part of yearbook is doing the activities outside of class," said junior Kayla Golightly. "I get the chance to connect with everyone."
Yearbook give students the chance to express their inner creativity by providing a fresh look every year.
"You get to create the theme each year and deciding the cover and colors incorporated into the book," said Stull.
The yearbook is filled with memories of the student body, but is a reminder of the fun times to the staff that created it.