Future renovations
Plans for tennis courts confirmed for upcoming school year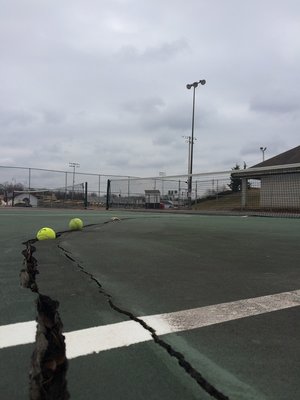 As renovations continue to be made around Mountie Nation, new structures are beginning to be planned out to further improve the school grounds.
One of these projects includes the new tennis courts that are to be built on the high school's campus.
The current structures are cracked and continue to do so as the year progresses and as the weather changes. These defects make it difficult to host any home matches for either of our teams as they go through their seasons.
As of now, there are only four courts that are safe enough to play on during any practices without risk of injury, and even those have some hazards for the tennis players.
The goal of the renovations is to demolish the current structure and relocate them to the west side of the new high school parking lot so that they are out of the main flow of traffic.
These will be brand new courts built with today's standards and will be completed fully for next school year.
Updated courts will be a major benefit to both current and future tennis teams at Northwest. They will provide a safe and appealing atmosphere to highlight the abilities of our athletes.
This project is just one of many that Superintendent Mr. Bontrager has initiated for the future Mountie Nation and puts us another step closer to the direction of greatness he has planned.