"Hello world of YouTube"
Junior creates YouTube channel as outlet, grows confident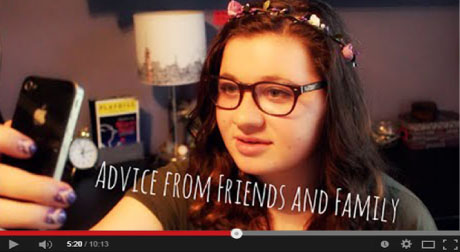 Katie Arntz, Assistant Editor-in-Chief
November 23, 2015
Starting a video off with "Hello world of YouTube! My name is Caroline!" caused many people to click the subscribe button on junior Caroline Smith's YouTube channel.
Smith's channel called Caroline Smith TV has been around since 2014 when she decided to create the channel and start uploading videos.
"My friends said I was really funny," said Smith. "They have YouTube channels too and told me I should make videos."
Smith's drive to continue uploading videos comes from a popular YouTuber star named Tyler Oakley. Oakley grew up in Jackson, Michigan and has become famous since creating his channel.
"Every time [Tyler] posts a new video, I feel inspired," said Smith."[His videos] motivate me to create one and put it out on the internet."
Smith admits the videos she uploads are not structured and are whatever she chooses to make a video about that day. Her video ideas are a combination of past videos YouTubers have done and some of her own original ones.
Junior Abby Nelson, who has made an appearance in three of Smith's videos, knows what happens behind the scenes of filming.
"[Caroline] and I are the best of friends," said Nelson."Helping her with what she loves doing, is just amazing."
Like Nelson, other students have managed to discover Smith's channel and talk about her videos around school.
"Caroline is always talking about her channel to the people she wants to watch [her videos], she isn't really a person to brag about it," said Nelson.
Smith collaborates with both her friends and freshman Danielle Smith, which is also Caroline's sister, in her videos. In Caroline's video blogs, she films her family and what she is doing that day.
"[Caroline's vlogging] has become a 'norm' to our family now," said Danielle. "[Our family] is supportive in what she wants to do and her dreams."
Since starting YouTube, Smith's family has noticed a change in her personality.
"I've seen [Caroline's] love for other YouTubers grow, along with her confidence," said Danielle.
Because of Caroline's personality, she has gained 124 subscribers on her channel as of Sept. 30.
"The number [of subscribers] doesn't matter to me," said Caroline.
Her advice to starting YouTube and gaining subscribers is to just be unique and create original content.
"If you try to be like other big Youtube stars out there, it won't work," said Caroline. "You have to be yourself so people like your personality."
Caroline plans to continue her videos through the rest of high school and onto college. She aims to possibly have her videos monetized and earn extra money for college. Caroline posts videos every Monday on her channel, Caroline Smith TV.