Like that of an iceberg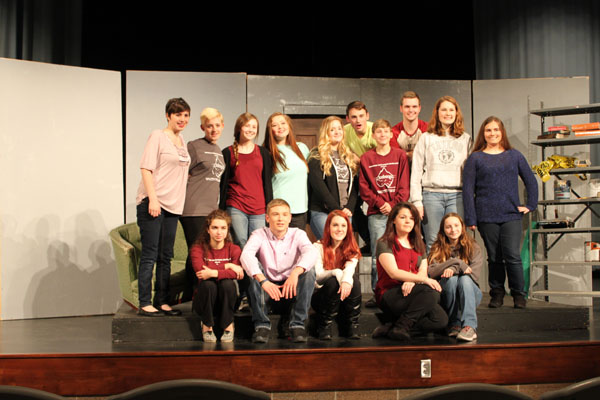 People tend to not see what is actually going on a person's life, much like that of an iceberg. The majority of the ice is underneath the surface where no one can easily see it.
This is the premise of Icebergs, this year's fall play performed by the Drama Club.
   Icebergs tells the story of a group of teenagers who get locked in a storage closet. During this time they learn that they really are not so different from one another. The teenagers discuss their problems and find out that each person is unlike anything they grew up knowing.
This is what the drama club advisor, Mr. Carey Collins, was trying to convey when he wrote the play. Collins wanted teenagers to understand that everyone has some sort of problem, even if they give no indication of it at school.
"The stories are all from students I've had in the past," said Collins. "I just took stories from many students and condensed them into ten."
Having these stories based off of true event are intended to help teenagers realize that the problems they face are real, and do need attention.
"The students seem to connect with [Icebergs] since it deals with difficulties [teenagers] typically go through," said Collins.
These shared problems across different social backgrounds help the audience to see that people are not so different after all.
"[Icebergs] helped assure my confidence in myself,"  said junior Sydney Jones. "It helped me discover myself more, as well as teaching me about the people around me."
Jones believes that Icebergs is more emotional than past performances that have been performed by the Drama Club, and may have an impact on students and how they see others.
"There is a part in this play that is completely unscripted," said Jones. "Our characters tell each other what we love about one another, and everything you hear is from our own minds."
With their character's realistic life problems, the actors often relate to the experiences and reflect upon their own lives.
"Icebergs has caused me to realize that other people face real issues, such as academic and family-related problems," said senior Michael Marry. "Before, I thought these problems were a Hollywood money maker, but they are real issues that teenagers face every day."
This has caused some of the cast to realize that almost all teenagers have difficulties.
"Icebergs attracted me because it's very relatable," said junior Kelsey Stanton. "Most people can identify with one storyline and I think that's important."
Students face struggles throughout high school, and they all deal with their circumstances differently.
Teenagers have a way of stuffing their problems away and not telling anyone about them. Icebergs illustrates that they should not be afraid to hide their problems, because everyone has something going on beneath the surface.