Snowfest theme Candyland, plans being finalized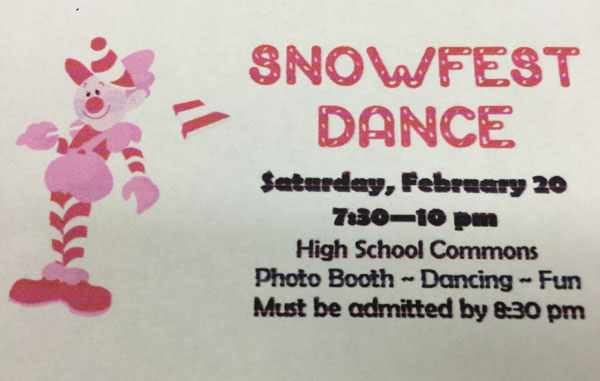 The annual week of Snowfest is scheduled from Tuesday, Feb. 16 through Saturday, Feb. 20. This year's theme is Candyland.
Seniors:
King Kandy (Gold or Yellow)
Juniors:
Princess Lolly (Pink)
Sophomores:
Mr. Mint (Red)
Freshmen:
Queen Frostine (Blue)
Staff:
Lord Licorice (Red and/or Black)
Throughout the week, there will be various dress-up days, which are yet to be announced. There will also be a games assembly on Thursday, Feb. 18.
There will be activities after school during the week, which are yet to be announced. There will also be multiple sporting events during the week that students are encouraged to go to for support.
This year, the dance will once again be on Saturday, Feb. 20, and will begin at 7:30 p.m. and end at 10 p.m. for the safety of students. Students will not be allowed in after 8:30 p.m. to prevent students from coming in an uncompromised state. Once a student leaves the dance, they will not be permitted back in.
The dance will be semi formal. It will be a Sadie Hawkins, girls ask boys, but a date is not required. At the dance, there will be Candyland themed food and a photo booth.
Snowfest dance tickets will be sold during both lunches from Feb. 12-19. Tickets purchased ahead of time will be five dollars, or can be purchased at the door for seven dollars.
Students will be expected to "keep it classy, not trashy", this is directed to apparel and behavior.
To enter the dance, students must have their Northwest student I.D.
Nominees on court
Freshman Lord and Lady:
Dakota Hitt
Jessica Piotrowski
Sophomore Duke and Duchess:
Trevor Saye
Sami Peters
Junior Prince and Princess:
Dale Wahl
Cece Klee
Senior court in no particular order (winners are to be announced during half time of the boys' basketball game):
Nathaniel Berry     Lexie Savicke
Michael Marry     Sierra Divish
Jacob Phelan     Gabby Streeter
Josh Riddle     Cassie VanHouten
Hunter Golmolka     Madison Perrin
Joseph Kurtz     Shai Case
Article updated on Feb. 11, 2016