Away from the Mediterranean
Italian exchange student ventures away across world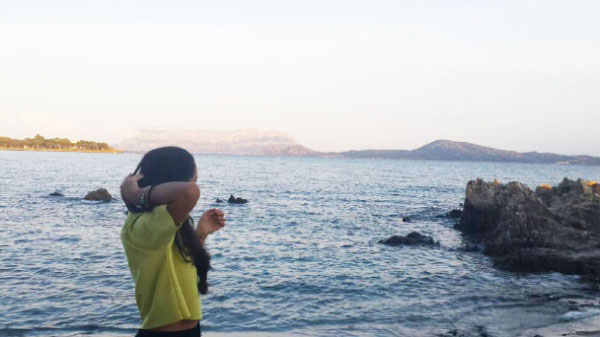 Being completely surrounded by the Mediterranean Sea, Sardinia, Italy is a beautiful island with vast culture, sandy beaches, and an all-access pass to exploring nature at its finest.
Though such an alluring, picturesque place exists, senior Giulia Riva chose to leave home and follow her heart, which has always been infatuated with the idea of traveling the world.
"I've always thought that traveling was the best way to know and appreciate cultures different from mine," said Riva. "That's why, four years ago, I decided to take the trip of my life. I wanted to fully experience another culture's life."
With this decision, Riva hoped to experience and join the American culture as fully as possible, and with the help of her host family it is becoming a reality.
One of the most difficult transitions has been coming into a culture that spends a large majority of their free time indoors.
"In Italy, I live by the beautiful Mediterranean Sea and I can always go to the beach in my free time to enjoy its wonderful colors and the landscape that surrounds it," said Riva.
She now enjoys taking walks and being surrounded by the colors Michigan has to offer, as well as spending time with friends indoors as the weather begins to become cool.
"Another big difference between Sardinia and here is that the temperature at home never goes under 40 degrees Fahrenheit," said Riva. "I just hope it doesn't get too cold."
With cold weather in the air, Riva often thinks back to her favorite memories and family traditions from home.
"The thing I miss most of Italy are Sundays at my grandparent's home in the countryside," said Riva. "This is when my family meets and eats together. Since Italy is known for its 'culture of eating,' it usually takes a long time to eat everything my grandmother makes."
Every week after their meal, Riva and her family would all take a walk in the countryside and share with the others what each person has done during the week.
Though Riva misses her home life, she also really enjoys the time she spends with her new family.
"Having two older brothers is strange for me since back home I have a younger sister," said Riva. "The person who made the biggest impact in my life is Luis, my German brother. Since we are living the same experience, we can understand one another very well and share a lot of great moments together."
Being able to explore this experience with another person has helped Riva, as well as having a host mother who has been through the same process.
"I had been an exchange student when I was in high school and thought it was an amazing experience," said Riva's host mother Trish Kampf. "[My family] had always talked about being host to exchange students at some point, and this year seemed like the right time to do it."
With the large amount of support surrounding Riva, she hopes to be able to feel like a citizen of the United States as well instead of just Italy.