Rubik's Cube food sculpture results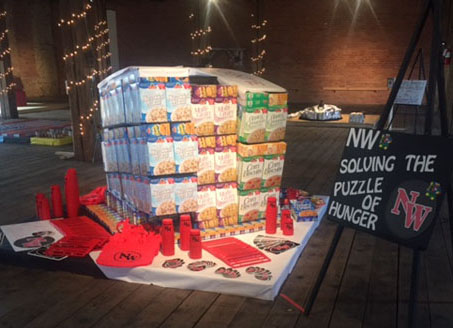 The Jackson Community Food Pantry held a sculpture contest to raise awareness and funds on Saturday, Mar. 20.
Schools around the county participated. Northwest created a Rubik's Cube. With their sculpture, they were required to have a slogan. Northwest decided "The Mountie Nation is helping to solve the puzzle of hunger in our community" fit well with their creation.
Unfortunately Northwest received second place, following JROTC holding first place. JROTC completed a sculpture of the United States Flag.
"I was very proud of our ambitious goal," said junior Gabe Arthur. "We were able to complete it and it was very complicated compared to some of the other sculptures."
During the building process, the team struggled to assemble their rubiks cube using hot glue while keep it stable.
"It was really cool being able to give back and help people who don't have food," said junior CJ Conroy.
Through team work and trial and error, the sculpture was able to be completed successfully.