Stemming to new programs
School provides STEM classes for students
Starting this year Northwest has begun offering the Science, Technology, Engineering, and Mathematics Program, (STEM.) It is a new curriculum based on helping students gain a better understanding in science and technology development, and also enlightens students of the many job opportunities available in these particular fields of study.
"We're finding that the big push has always been college, college, college, and now we're realizing that college isn't for everyone," said Biology teacher Miss Rhonda Drumm. "So, this is a new avenue to let those kids who might not want to go to college or be fit for college to be able to be successful, and be ready for the work force that they're going to go into when they graduate."
Jobs of STEM do not require a college degree. However, a four-year degree is helpful to increase salary, and students who would prefer higher pay will have more option to do so after a STEM course.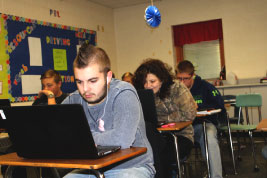 STEM provides students who might be interested in pursuing a career in mechanics the opportunity to get a full-on learning experience based on real-world circumstances. Although the U.S. has historically taken the lead in these objectives, fewer students have been focusing on these fields recently.
"For the most part it's like regular classes, but we have more time to get work done," said sophomore Lexie Smith. "The main difference is that unlike other classes, we as students are given a problem and have to solve it in individual groups without a teacher's help."
According to www.Livescience.com, STEM has also had a large effect on student's performance ratings in schools as they outperform those in traditional classes. Tests and exam scores have been proven to increase by as much as six percent, and a student's letter grade can improve by half of what it would be taking traditional courses.
Www.Lawstreetmedia.com's statistics say that the manufacturing field currently has a shortage of 600,000 workers, and many lack the necessary skills for specific tasks. STEM can provide an education that will help students be fully prepared to take on these tasks.
"We're using STEM because we live in a technologically advanced world and STEM is right there," said Mrs. Drumm. "If we can get kids working with STEM and understanding these concepts, they are going to be ready for the real world and they'll be more successful."
Over 75 students are participating in a STEM class this year. STEM brings application to the classroom for better understanding of concepts, while at the same time making school more interesting and fun.