New teachers embrace high school
Miss Emilee Bodien
Bodien is a student teacher for choir teacher Mr. Matthew Snell. Bodien currently attends Western Michigan University. She will be working with Snell until November, and then she becomes a part of the middle school choir group. "Student teaching is a great way to put my feet in the water," said Bodien. Choir is her favorite subject to teach because she loves being able to make music every day. Bodien likes to play volleyball and is also a lover of trying new foods. She is impressed with Jackson Public Schools, from the administration, to the students. Bodien thinks everyone in the Northwest Community is respectful, kind, and patient.
Miss Kallyn Conley
Conley is a student teacher for Miss Tracy Dryer, who teaches American Literature and AP Psychology. Conley is currently attending Albion College. She recalls having a teacher in high school whose husband had passed away, but Conley's teacher returned to school only two days after the funeral. This inspired her to become a teacher. Conley feels that the Northwest Community is very embracing, and she feels accepted here. In her spare time, she enjoys watching shows on Netflix like One Tree Hill and Psych. She believes that student teaching has opened her eyes and she has a stronger desire to become a teacher. "It's been awesome," said Conley.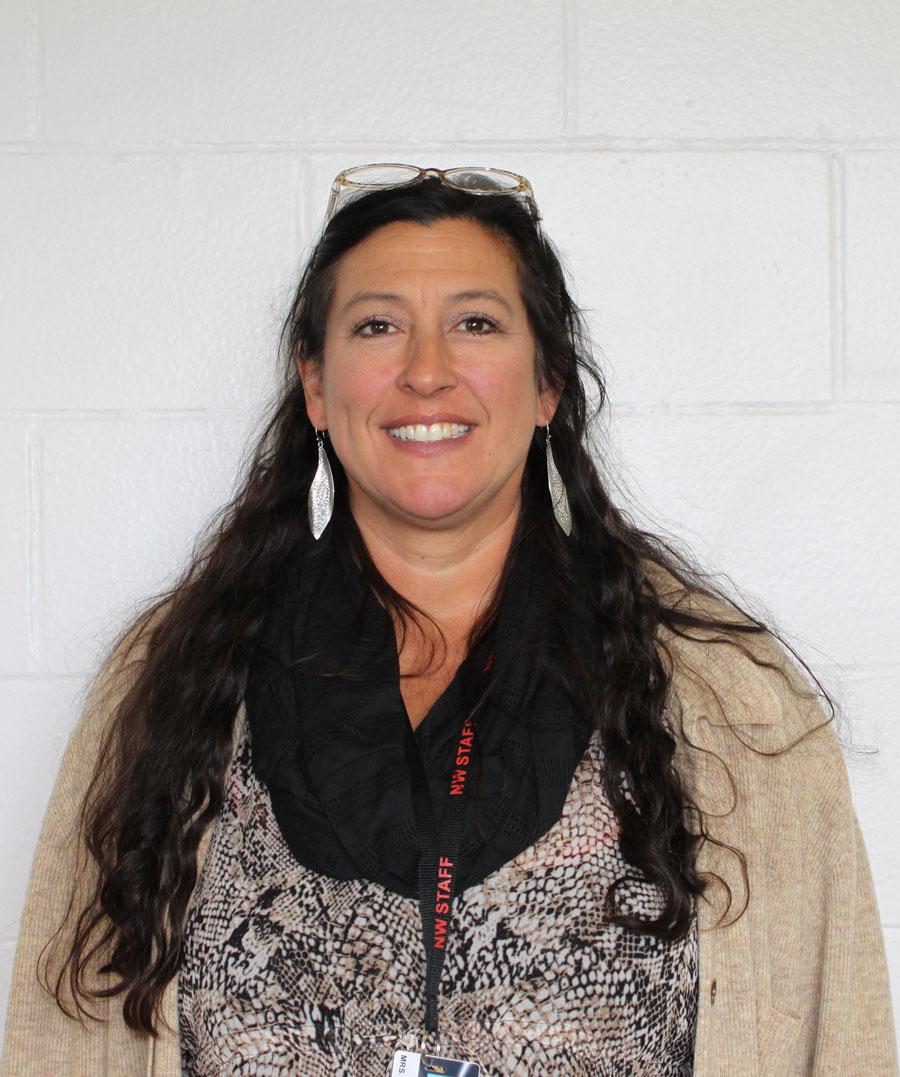 Mrs. Lisa Guitierrez-Carroll
Carroll used to teach at Jackson High School. She teaches Spanish one and three, and is going to teach British Literature second trimester. Carroll graduated from Michigan State University and got her teaching certificate at Alma College. She majored in Journalism during college, but changed her mind and went back to college to get her degree in teaching Spanish. Carroll is very excited to be here. "Every day is different [at Northwest]," said Carroll.
Miss Rebecca Kelly
Kelly teaches Biology and Conceptual Physics. In middle school, she had a teacher that influenced her choice to become a teacher. "I like teaching kids about things they don't know about," said Kelly. She loves it when her students have that "a-ha moment." Traveling in her spare time is normal due to her kids playing sports such as hockey, soccer, and football. Kelly has been teaching for a long time and is glad to be a Mountie.
Mr. James Peake
Peake teaches Heavy Equipment Operation the last two hours of the school day. He has worked construction for thirty-one years and travels all around Michigan as a Master Trainer, which means he goes to certify people in the construction industry. He enjoys going to car shows and driving his 1969 Chevy and 1956 Ford Pickup. Peake likes taking trips without having a destination. "Wherever the road takes me," said Peake. He has done a lot of work for people at war, Ford, and other companies. Teaching is rewarding to Peake, especially when an old student calls him and thanks him.
Mrs. Danielle Smith
Smith teaches STEM English and British Literature A. "I felt like I didn't have a say in high school and I wanted to be a teacher that gave students a say," said Smith. She enjoys building relationships with her students and is always happy to help. Smith is a foster parent and also spends time at the fire station where her husband works. She has taught for seven years and completed her teaching degree from Baker College. "I have an open door policy and if anyone ever needs to talk or every needs help, my door is always open," said Smith.
Mr. Albert Rossner III
Rossner teaches Advanced Manufacturing and Engineering in the STEM Program. He got his Masters Degree from Bowling Green University in Ohio. Rossner became a teacher because he realized that it was something that would be better for him. He enjoys seeing his students reach a whole new level of maturity. Rossner wants his students to succeed and wants to help them find their way. "You don't know what you don't know," said Rossner. He not only enjoys cooking, his dad being a chef, but, he also enjoys helping the community by being an assistant chief at the fire department. Rossner is very family orientated and has a strong belief in his religious views. Rossner he is always willing to help kids with their choices once they finish high school and believes that it is important to find something you love.