Keeping it safe
Prescriptions for birth control should remain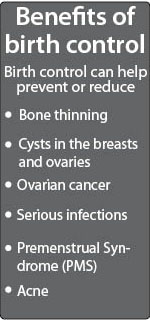 Birth control has been around since the early 1900s. It's been known for many benefits such as regulation of menstrual periods, decreasing menstrual cramps, treating acne, and lowering risk of anemia and some cancers.
As time moves on, the question 'should birth control be sold over the counter instead of being prescribed by a doctor' is frequently asked.
"It is a hormonal therapy that is going to affect the reproductive organs and system," said Registered Nurse Mrs. Karen Fodor.
Birth control can have major side effects that are higher for some women.
"There are different types of birth control, and they are prescribed accordingly to which type of hormonal therapy that would be best for that individual," said Fodor. "Whether a preventive measure for specific conditions or because of the behavior risks for that individual."
Birth control being sold over the counter would make it have easier access for some individuals but not safer.
"Because of health conditions the women may have, that may be factors that increase the risk for blood clots, obesity, blood pressure, and on bed rest activity," said Fodor.
The health care provider would need to determine the pill dosage and which hormone to take.
Women may have problems that they do not know about, and getting the check up that is required before getting birth control could save their life.
A common problem that many women have is called Factor V Leiden, which is a mutation that can increase chances of developing abnormal blood clots, usually in peoples veins. Many women do not know that they have this disease, and if they receive birth control without knowing they have it, it could lead to blood clots that leave long term or life threatening health problems according to www.mayoclinic.org.
"The lack of medical reproductive health care follow up would not occur if women were to purchase it over the counter," said Fodor.
It is never hard to get birth control prescribed by a physician, nurse practitioner, or physician assistant. They are well educated about this medication.
Birth control is a privilege that women are fortunate to have, letting it be sold over the counter is misusing it.