New coach inspires change in football program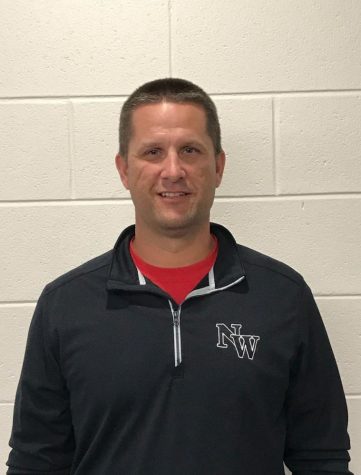 The Northwest High School varsity football team recently scored their first win in two consecutive years against Eaton Rapids High School. To thank for this is the dedication of the Northwest players, the coaches, and new Varsity Head Coach Mr. Adam Grybauskas.
  Grybauskas comes from the Hudson Valley area where he played as a cornerback and wide receiver for Hudson High School, which was a more rural secluded community. He also played baseball in the spring.
  Grybauskas later went on to Grand Valley State University, originally hoping to be a professional athlete, eventually opting out of this to become a teacher and a coach.
  Grybauskas coached at Central Lake High School from 2001 to 2010, with sixty-seven victories and thirty-five defeats, and Elkton-Pigeon-Bay Port High School from 2011 to 2016 with a record of thirty-six wins and twenty-five losses. Grabauskas has received numerous awards and commendations for his coaching abilities. Awards such as Bay City Times Coach of the Year, MHSFCA Regional Coach of the Year, and Associated Class D Coach of the Year.
  Grybauskas moved to Northwest primarily to help turn around the program, to turn it into something better. Grybauskas has a passion for turning programs into something successful. He has been a part of turning around programs for most of his career.
   The other reason was he wanted to move "closer to home."
  "Grand Rapids is home, and we wanted to be within an hour and a half," said Grybauskas. "Northwest puts us at about that point."
  Over the summer, the football teams were put through a rigorous training program, including off-season weightlifting and a football camp at Grand Valley State University. The practices were twice a day for four hours per section with breaks in the middle of the day for lunch. Sections were also in the evening for recovery, dinner and team bonding exercises, such as volleyball tournaments, beach days, and other competitions.
  He has brought several new philosophies with him such as F.A.S.T and the WIN NOW mentality. WIN NOW has the common misconception that it is simply about football and victory; however, this is not the case. WIN NOW is about winning in life, doing good by people, in relationships, in school, and winning in every moment that you walk this earth.
  It is the duty of the player to win each play, each individual battle, or combat their opponent to the very best of their ability. This goes for games as well as practices. Every rep matters and they must be performed as well as they can.
   F.A.S.T is more football related.
   "It's a goal of our program, to practice fast, to play fast," said Grybauskas.
   F stands for family. For the team to be successful they must act as one cohesive unit, using teamwork and communication. The team must watch one another on the field and make the right calls for the right plays.
  A stands for attitude. Small inconveniences or mistakes should not be allowed to dictate the course of the game. The players must stay strong mentally and remain undeterred in their fight for victory.
  S stands for smart. If the player is unaware of how to play their position, they do not compete until they know how to adequately perform they assignment, so they may eventually start there or substitute should the need arise.
  T stands for tough. The team is to be the strongest on the field at all times. Essentially they are gladiators on the field, warriors to the echo of the whistle.
  With all new plays, players, ideas, and a chance to reinvent the program, the team has the unique opportunity to separate itself from the stereotype that Northwest High has an inadequate football team. With this philosophy, Coach Grybauskas knows, with time, Northwest High School will fight back and rise to the top as a contender in the I-8 conference.