Embracing passion for future career
Student prepares for profession in dental hygiene through co-op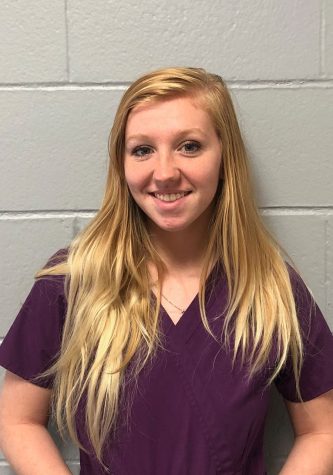 Since hearing about the Dental Occupation program at Career Center, senior Amber Carroll has dreamed of being a Dental Hygienist.
Carroll attended the Career Center for one year in the Dental Occupation program, and since then has joined the co-op program She also began working at Kellogg and Latz Dentistry.
The co-op program allows Carroll to work on the job Monday through Thursday from 11:30 a.m. to around 5:30 p.m. While there, she has many jobs to fulfill on a daily basis.
"I'm kind of like a dental assistant,  but I have limitations," said Carroll. "I sterilize tools and help assist customers. I also clean up the rooms and do any odd jobs asked of me."
Carroll obtained this job through alumni Peyton Samons, who had the job before her. When Samons went to college, she recommended Carroll to take her place in the office.
"Peyton is the person who told me about the [Dental Occupation] program and got me the job I have today," said Carroll. "She is the person who gave me my passion and inspired me."
Samons recommended Carroll for the job because she knew Carroll was capable of filling her shoes.
"I knew Amber would be a good fit for the job because she is such a hard worker. She is very outgoing and takes initiative without being told. She is always one step ahead and I knew she would thrive in an office setting," said Samons. "I am happy I left the office with someone who would not disappoint."
The job at Kellogg and Latz Dentistry has helped Carroll advance her career in Dental Hygiene. She plans to go to University of Michigan's Dental School for Hygiene or Ferris State University.
"This job is helping get my foot in the door and will help me get a job in the medical field since I already have experience," said Carroll. "When I am in college I will be able to get another office job in a dental office until I complete college."
Carroll is planning to attend college for three to four years. She intends to be able to go into her program her sophomore year and graduate after senior year at the college of her choice.