Community members attend trip to fund Project Graduation
On Dec. 2, a group of students and parents traveled to Chicago for a fundraiser. The students were able to shop, eat, and visit plays and museums.
"My favorite part of the Chicago Trip was going to the Gucci Shop," said sophomore Madison Grenke. "It was really cool to see a store that is so out of the ordinary."
Because the trip has no "plans" or set schedule like most school trips, students and families were allowed to do whatever activities they wanted. Participants agreed that the trip was similar to taking a normal vacation, but the money went toward a great cause.
The trip cost 50 dollars and the proceeds went toward Project Graduation, an event held for seniors after they graduate. Many high schools across America host similar events after their seniors walk across the stage in an attempt to keep graduates in a safe environment after their big moment. The prizes require much funding in advance, so raising money through a safe school event benefits everyone.
On the way to Chicago, participants rode in plush buses from Dean Transportation. On the bus, there was a 50/50 raffle to help raise extra money. There were also free muffins, bagels, and water for any hungry travelers.
"The ride was long and dark enough to sleep," said Grenke. "I was able to rest before and after the long trip. It was awesome."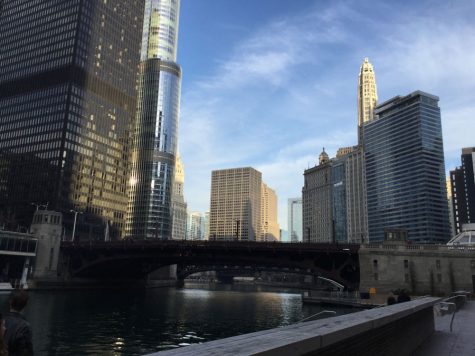 Overall, the trip was very successful. Students, families, and staff from all of the Northwest buildings went and say they had a great time.
"I'd go back because I love Chicago," said Grenke, "but when I go back, I'll have enough money to buy something from the Gucci store."
Project Graduation raises money to purchase prizes for this year's graduates as well as helping provide food and entertainment for graduation night. This trip was a great way to help Project Graduation as well as having some fun in the 'Windy City'.