Spotting the difference
Determining whether iPhone X is worth the price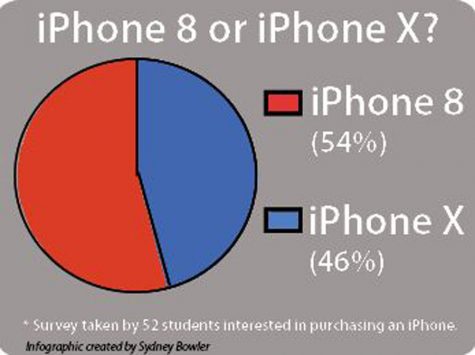 On Sept. 22, 2017, the iPhone 8 and iPhone 8+ were released worldwide. 43 days later, on Nov. 3, Apple released the iPhone X.
The iPhone 8 is the average model with enhanced settings, costing $700-$800, where as the iPhone X costs $999. The iPhone 8 and iPhone 8+ can be purchased or leased without a carrier service (i.e. AT&T, Sprint, T-Mobile, or Verizon), while the iPhone X cannot.
There are also many problems with the 8, such as overheating, swelling batteries (increase in size of battery causing phone to break), and abnormal battery drainage.
The iPhone 8 may be a better option for some, as it is much cheaper. Both phones run on iOS 11, and have the fast charging features. The main differences are their fuctions, abilities, and hardware. For example, Apple's new iMessage feature, Animoji, is not available to the X. The iPhone 8 has an LED screen, and the X has a new organic light-emitting diode (OLED) screen.
The iPhone 8 is the same size as the iPhone 7, so cases can transfer from phone to phone. This will save money for previous iPhone owners.
Many concerns revolving around the features of the iPhone X are causing customers to worry. One of those features is the facial recognition, which is causing multiple buyers to fear not being able to obtain access to their phone when they change one of their features. Some people thought make-up, hair dye, and other alterations in appearance factor into this.
Apple has addressed these problems by confirming that the new iPhone will not be affected by changes in personal features. Apple guaranteed that it will still be able to recognize its owner.
The iPhone 8 does not have this feature, and it still uses TouchID.
The iPhone X has several problems as well, such as screen burn in (a faint permanent image on the screen even after a new image), sound crackling at high volume, and the inability to work in cold temperatures. The new OLED screen also had defects in itearly days.
There are many similarities between the iPhone 8 and the iPhone X, so it is up to the buyer if the differences are worth the extra $200.