Getting ready for reality
Career center prepares students for future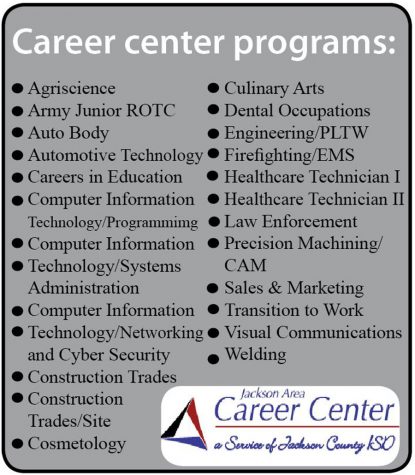 The Jackson Area Career Center (JACC) is a facility for juniors and seniors in the Jackson and Hillsdale areas that helps students pursue their future careers. More than 1,200 students learn categorized career skills throughout the A.M. or P.M. shifts.
JACC offers twenty-two programs focused around different fields of work that provide college credit and potential licenses in their respective fields. The courses offered involve military work, various arts, industrial labor, health care, and engineering among other things, and are all free of charge.
"I take networking and cyber security," said senior Gary Owens. "It is very difficult, however I do like what I am doing, and it is definitely going to be helpful if I ever try to go into that field."
Students take JACC classes in place of normal classes, taking the bus to the Career Center during either the morning or the afternoon. To compensate for the lack of credits normally received through electives and some common core classes, high school credits are offered when participating in programs.
Career Center classes are not merely paper and pencil work. Every class involves hands-on activities similar to what you will find in the actual workforce.
Cosmetology, for example, directly teaches students how to cut/style hair, and care for nails and skin. In addition, they go on field trips to hair shows and area salons to experience the ins and outs of the cosmetology field.
Visual communications is another course that focuses very heavily on hands-on work, with 80 percent of it being entirely focused on activities and demonstrations. It is also composed of three different categories: design, digital media, and print technology.
If a student wishes to go into the military or public safety after graduation, courses for firefighting, law enforcement, and the army are available. These options give students a direct look into these potentially dangerous lines of work, and give them college level experience so they can help others sooner after graduation.
For the fastest growing occupational industry of the present, the Healthcare Technician programs give participants knowledge in multiple parts of the field. Healthcare Technician I involves biomedical science, training to become a certified nursing assistant, and learning the foundations of first aid, basic care, and emergency assistance, while Healthcare Technician II teaches advanced clinical lab skills, patient care, and human biology.
JACC has far more courses than these, along with various field trips and competitions. For more information, visit www.jcisd.org/jacksonacc for info on every program, along with more details on the perks it offers.