Outstanding athlete: Campbell proves to be trustworthy wing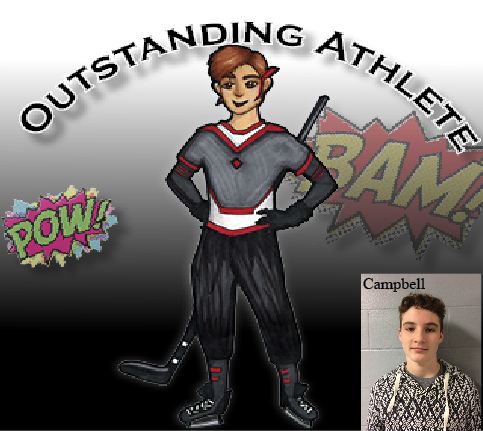 For the past 12 years, freshman Owen Campbell has been playing hockey. He was first put on the ice at three years old and has been skating since. Campbell joined the Jackson B&M Towers hockey team and is currently playing for them.
"When I first joined the team it was hard, as I wasn't very good," said Campbell. "Over time I excelled with the help of my coach and team."
Although Campbell was improving every year, he went through rough times and had to learn to keep fighting. Throughout the hardest of times, he kept his head high and played his hardest.
"The toughest time I had in hockey was when my friend's brother was diagnosed with cancer," said Campbell. "He would always come to our games, support the team, and would always make us laugh by being goofy; it was hard on the whole team."
Hockey has become Campbell's biggest passion; he has learned many leadership roles and how to overcome difficult obstacles. According to Campbell, his brothers had a large impact on teaching him how to become a leader on the ice.
Campbell's brothers' were the ones who encouraged him to play hockey. Since he was younger, he had always seen them playing and it inspired him to play as well.
Over the years, Campbell has achieved many goals that he had set for himself. Since this sport is very time consuming, Campbell has put most of his time into improving, making his goals become achievable.
He is now one of the leaders for his team by helping out beginners/ new members. One of his jobs is to go over the way the team operates. Campbell hopes to excel in hockey in the future and accomplish more goals.
"My team is like another family; they're a family outside of my home," said Campbell. "Without them, I would be nowhere close to where I am today."
Campbell plans on continuing hockey when he goes to college. Although it will be hard to replace his hockey family, he will have another group of friends that he can always count on.