Outstanding athlete: Trine's passion for cheering
  Senior Arianna Trine has been cheering competitively for over six years. One component to cheer that she really enjoys is the adrenaline rush. That rush comes
with her position, as she is a flyer for the team.
  Trine was heavily influenced by the movie Bring It On to join cheer. Another heavy influence in Trine's cheer career was her mother.
  "My mom really influenced me to try out while I was in middle school," said Trine. "So, I thought why not, and I ended up falling in love with the sport."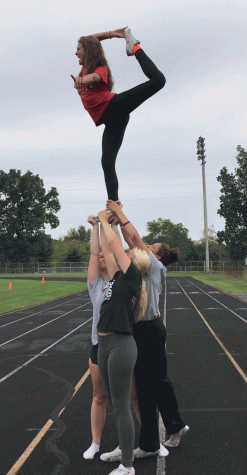 Now, what makes Trine an outstanding athlete? She was asked what She knows her strengths.
  "My flying experience, tumbling skills, and I went to numerous camps that helped me improve," said Trine.
  Trine has continued to improve and has accomplishments and awards to show for it. As a sophomore and junior, she was named to the all-conference team in the I-8 Conference.
Despite all the success, with every great athlete comes the struggles and hardships.
  "There is a high difficulty level to some of the stunts," said Trine. "I have fallen numerous times when trying some of them."
  Trine is one of those athletes that know how to compete at a high level, but she understands how important it is to compete the right way too. She strives to be a role model to younger kids in the sport.
  "I have two sisters," said Trine. "They are both on the middle school cheer team and both look up to me."
  The combination of hard work, overcoming challenges, and having a great family behind her has allowed her to excel in the sport. Trine credits some of her success to the upperclassman she was able to learn from in past years. She referred to the upperclassman as "the more experienced." She is a true student of the sport.
  Trine is looking to strongly finish out her senior year, and she has aspirations of cheering in college.  Michigan State would be her dream school. For the time being, Trine will focus on her last high school season; she has the potential to earn all-conference for a third time and possibly even more.