Four wrestlers advance to regionals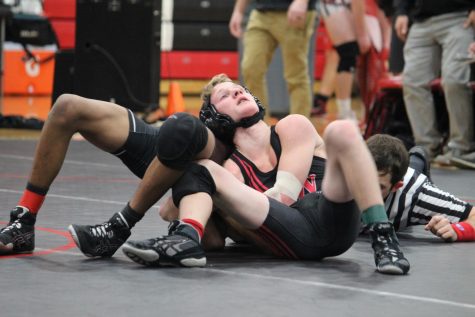 The Varsity wrestling team recently competed in the team district meet hosted by Northwest High School. Northwest, Eaton Rapids, Saline, and Western all battled it out on Wednesday, Feb. 6.
  The Mounties had a crushing loss at the hands of Eaton Rapids, but not before the team took down Saline.
  The wrestlers move on to the individual regional meet. Individual wrestlers from the team plan to go out and give it their all on the mat, and make personal bests and win as many matches as possible.
  Four boys will be advancing to the regional which will be held at Vicksburg High School on Saturday, Feb. 16.
  Senior Austin Tapley – placed 3rd at Districts to qualify
  Junior Jake Race – placed 4th at Districts to qualify
  Sophomore Bryce Graham – placed 4th at Districts to qualify
  Freshmen Payne Boulter – placed 4th at Districts to qualify