Suicide awareness walk contributes to future scholarship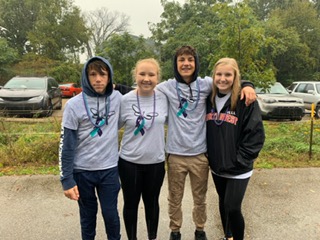 On September 29, the Out of the Darkness walk took place on the Falling Waters Trail in Jackson. This year, many who participated did so in memory of Lauren Caster. The goal of the walk was to bring suicide awareness to the community and support those who may need it.
"The American Foundation for Suicide Prevention (AFSP) created the actual walk, but then I created the team for the walk," said Lauren's mom, Heather Caster. "It's just to raise awareness, and it's gotten really crazy… There's a lot of people joining."
As Heather Caster supported the walk, many of her peers started joining. Many donated and raised money which went to AFSP for research, tools, and resources. As people donated toward the organization, people also raised money toward the upcoming Lauren Caster scholarship fund which will be made available in 2023.
"The scholarship is not going to begin until 2023 because that is Lauren's graduating class, so that group is very special to our family. Which means, the Class of 2023 will be the first students to apply for it," said Heather Caster. "Whether it's one, or two, we don't know yet. It really matters how much money is raised to fund it. Basically, it's for kids to prove they're living the 'Be More' way."
The message for this scholarship is "Be More."  After Lauren's passing, Heather Caster's husband, Michael Caster wrote the poem, "Be More" because he felt that Lauren wanted this message to be shared with everyone.
"'Be More' means to just be more for people. Step outside of your comfort zone and do something special for someone," said Heather Caster.
As Heather and others participated in this walk, with the support of AFSP, their future vision is to continue to bring awareness to suicide and to support Lauren's class with the scholarship fund.