Five shows that all teenagers should watch next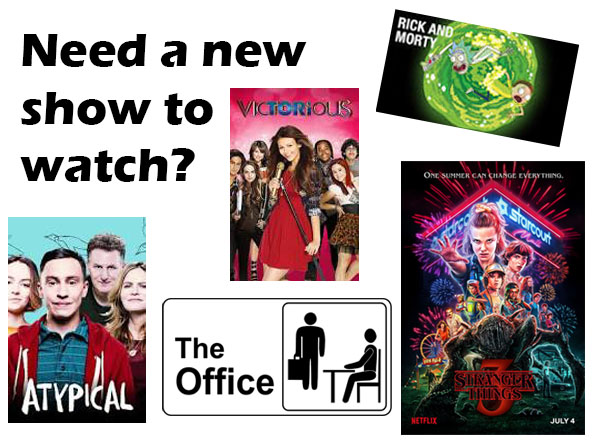 REVIEW (OPINION)
The Office (U.S. Version) – 5 stars
The Office is an American sitcom on a group of "typical" office workers, where the workday consists of ego clashes, inappropriate behavior, and tedium. This mediocre paper company Dunder-Mifflin, lays in the hands of Scranton, PA. Branch Manager, Michael Scott. This sitcom follows the everyday lives of the manager and the employees he "manages." The first episode aired on March 24, 2005, until the last episode aired on May 16, 2013, lasting a total of nine seasons. You can watch all seasons of The Office on Netflix, Amazon Prime, and YouTube.
(My View) The Office always has you laughing and wanting more. Watching Dwight and Jim pull pranks on each other is the best part of the show by far. If you're not laughing then you're crying because of Pam and Jim's relationship. You see the two grow into a family and conquer so much as a couple. The show is one of the funniest sitcoms I've ever seen. From Phyllis to Angela to Oscar to Kevin I promise that this is the funniest show you will ever watch.
Victorious – 4 stars
This series revolves around aspiring singer Tori Vega, a teenager who attends a performing arts high school called Hollywood Arts High School, after taking her older sister Trina's place in a showcase. She struggles to fit in with the amazingly talented teens all the while getting into screwball situations on a daily basis. The first episode aired on Nickelodeon March 27, 2010, until the final episode on February 2, 2013, lasting a total of three seasons. You can watch Victorious on Netflix, Amazon Prime, Vudu, and YouTube.
(My View) I believe this show gives a positive message about following your dreams and being your own person. It's not only a funny show but sometimes speaks on serious topics and can make you relate to some problems faced in life.
Stranger Things – 4 1/2 stars
This series is set in the time period of the 1980s in Indiana. When a young boy disappears, his mother, a police chief, and his friends must confront terrifying supernatural forces in order to get him back. As they search for answers, the children unravel a series of extraordinary mysteries. The first episode aired on July 15, 2016, there are 25 episodes in total. The producers have not yet confirmed if there will be another season or not. The show is a Netflix original making it only available on Netflix.
(My View) This show draws you in slowly and once you have been drawn in, there is no turning back. You wait by the TV for the next episode to play. It is funny but also sad and takes you back to childhood. With this show you realize that there is a lot more going on in the world then what is just going on around you.
Atypical – 5 stars
This show is a heartfelt comedy that follows Sam (the main character), a teenager on the autism spectrum, who has decided he is ready for romance. In order to start dating and hopefully find love, Sam will need to be more independent, which also sends his mother Elsa on her own life-changing path. She and the rest of Sam's family, including his feisty sister Casey and his father Doug who is seeking a better understanding of his son, must adjust to change and explore what it means to be "normal." The first episode aired on August 11, 2017, the show is still in the making and the producers are continuing to make more episodes. Atypical is a Netflix original making it only available on Netflix.
(My View) Atypical shows the audience how someone on the spectrum behaves and reacts to certain situations. It gives the viewer an insight to what a person on the spectrum goes through and that they are actually not all that different from someone who is not. This show is funny, but also very heartfelt and emotional. Once you start to learn about the life of Sam Gardener, it's hard to stop.
Rick and Morty – 5 stars
After having been missing for nearly 20 years, Rick Sanchez suddenly arrives at daughter Beth's doorstep to move in with her and her family. Although Beth welcomes Rick into her home, her husband, Jerry, is not as happy about the family reunion. Jerry is concerned about Rick, a sociopathic scientist, using the garage as his personal laboratory. In the lab, Rick works on a number of sci-fi gadgets, some of which could be considered dangerous. But that's not all Rick does that concerns Jerry. He also goes on adventures across the universe that often involve his grandchildren, Morty and Summer. The first episode aired on December 2, 2013, the producers are still making new episodes so there is not a last episode yet. You can watch Rick and Morty on Cartoon Network, Hulu, YouTube TV, YouTube, and Amazon Prime.
(My View) Rick and Morty is hands down one of the funniest animated shows I have ever watched. Everything that goes on in that show is completely crazy. When there is a sad scene in the show, it is truly not even sad because of the jokes and references made. You can watch this show four times over again and still laugh at the same jokes.