Fans hope Star Wars series stays alive
   Star Wars has been capturing the imaginations of fans young and old for four decades and counting. With The Rise of Skywalker, the final installment of the Skywalker saga, being released in December 2019, many, including myself, are looking forward to seeing what the future holds for Lucas film.
In 1977, director George Lucas (previously known for directing American Graffiti) released a    movie that would go down in cinematic history. That movie was Star Wars.
Later renamed Star Wars: Episode IV – A New Hope, the movie follows a young man named Luke Skywalker. Luke is tasked with rescuing Princess Leia from the Imperial Forces that were   under the command of Darth Vader.
With the help of Obi-wan Kenobi, Han Solo, and Chewbacca, Luke rescues Princess Leia and foils Darth Vader's plans.
Two more films following Luke, Leia and Han would be released: The Empire Strikes Back in 1980, and Return of the Jedi in 1983. The Empire Strikes Back would also hold one of the most surprising plot twists in film history.
It would be more than a decade later when Lucas would release another Star Wars movie. In 1999, a prequel series to the previous 3 films was released.
Titled Star Wars: Episode I – The Phantom Menace, the film follows a young Anakin Skywalker, who would later become known as Darth Vader. The films also brought back more familiar faces, such as a younger Obi-wan Kenobe.
Following the three year gap between film releases, two more movies about Anakin's journey were released: Attack of the Clones in 2002, and Revenge of the Sith in 2005.
Though the three prequels were not really fan favorites, they all still had amazing results at the box office worldwide. The Phantom Menace made over $924,000,000, Attack of the Clones made over $653,000,000, and Revenge of the Sith brought in over $868,000,000.
In 2011, George Lucas had begun to work on Episode VII: The Force Awakens before Lucas film was sold to, and purchased by Disney in 2012. Disney chose not to use Lucas' story for The Force Awakens.
   Learning that Lucas originally had another idea for the film made me very curious. I wondered what the movie and its sequels would have been like if it went by Lucas' original story.
The movie would introduce new characters to the audience.  It would also welcome back old faces from the previous movies, giving a sense of nostalgia for first generation fans.
   The Force Awakens, released in 2015, follows a young woman named Rey, who is on a journey to help find the long lost Luke Skywalker. With Han Solo, Chewbacca, Leia, and a storm trooper named Finn, Rey voyages across the galaxy to find the Jedi Master, as well as avoid the clutches of the mysterious dark warrior Kylo Ren.
Two more movies following Rey and the others would be released: The Last Jedi in 2017, and Rise of Skywalker in 2019. Between the two newest films, Lucas film released 2 films that would begin the "A Star Wars Story" series: Rogue One, released in 2016, and Solo, released in 2018.
With the Skywalker saga coming to a close, many wonder what Lucas film will do to keep the story of Star Wars alive for future audiences. With spin offs of the story, such as the "A Star Wars Story" series, multiple made for TV programs, and new movies, it seems that Star Wars will appear many years to come.
Hopefully the future holds many more adventures for fans like me that take place a long time ago, in a galaxy far far away…
About the Writer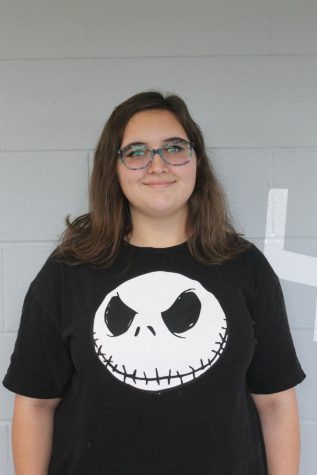 Maddy Draffen, Web Journalist
Maddy is a senior with a laid back personality, and has a passion for special effects, make up, and prop making. She also loves to draw  and paint.

"Don't...