Soccer Season, Why Not?
Senior boys look to pursue new hobby
 Although starting a new sport 18 years into your life may be difficult, Seniors Xander Coplin, Grant Quinn, and Issac Anuszkiewicz found a new love for the game of soccer.
   Quinn and Anuszkiewicz had played soccer from a young age, but they had just joined to be active, like most elementary school children. Eventually, both dropped the sport after their first season and never played it again until high school. 
  The three boys thought they would never join soccer again because they were preoccupied with other sports. Coplin, Grant, and Anuszkiewicz all played baseball for many years, and Grant still plays for the high school varsity team. 
   "Playing sports for years and staying in shape has helped aid in my decision to play soccer this year," said Anuszkiewicz.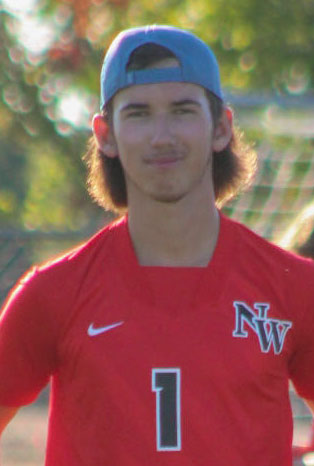 Before the season started, all three boys made a pact together to try out and hope for the best, and it ended up working out in their favor. They all made the varsity team and felt very welcomed by their teammates despite their lack of experience. 
  Starting center back Junior Marcus Arbrouet believes that these senior boys brought tremendous energy to the team and thought it was enjoyable to have them around.
   "Each of them has shown great improvement from the time they started summer training until the end of the season," said Arbrouet. 
   Since starting summer workouts, the seniors realized that this sport was good for them. The bonds made through the team camaraderie made the three boys feel comfortable with their decisions. 
   When it came to game days, they were excited to support their team.  They enjoyed playing for a few minutes even though they were still new to the game. Anuszkiewicz and Quinn both played wing when they entered the game, while Xander was the backup goalie. 
   "When I was on the field, and I could see the crowd cheering for me, it made me feel supported," said Quinn. 
   Support from their classmates and the community allowed the boys to have confidence when they entered the game. All of them were grateful for the cheering support when they made a good offensive or defensive play. 
      Even though their senior season did not end the way they wanted it to, they were proud of what they were able to accomplish. Quinn finished with an assist during the season, while Anuszkiewicz and Coplin played valuable minutes in many of their wins. 
   Looking back on the experience, they exceeded their expectations for soccer. All of the boys plan to play again in future years. Anuszkiewicz recommends that if you are a senior and not doing another sport, take the opportunity to try a new sport you should take advantage of it.