Journey to recovery
Athlete battles opposing odds of rare syndrome
   When the doctor walked in to share the diagnosis, Junior Lonnie Robinson first thought, "Will I ever play sports again." 
   Robinson was diagnosed with Guillain Barre Syndrome in July of 2021 which is where the immune system attacks your nerves and it paralyzes you from the lower back down. After his diagnosis he was stuck in the hospital as they ran multiple tests to make sure he was going to be in a stable condition. 
   The pandemic was already a difficult enough situation for him to deal with, he also had to go through what could possibly be the scariest and most overwhelming moment of his life. 
   As a student athlete in high school this was devastating news. He was a multi-sport athlete and was very successful in all. This syndrome slowed his abilities down and made it impossible for him to even walk on his own.
   Robinson participated in travel baseball, which he adored and spent most of his time doing. He and his family would travel all over Michigan for games and even practices for Robinson to constantly improve.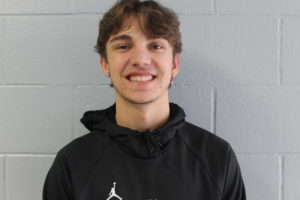 This syndrome impacted Robinson's abilities tremendously. As he woke up one morning headed to a baseball tournament in Ohio, he realized was very sore but did not think anything of it. As he had worked out the previous day so he easily blew it off.
   After a week had passed, Robinson was unable to stand without assistance.
   ¨I was scared I wouldn't be able to participate in sports again,¨ said Robinson. 
   Robinson is still adapting to the changes and goes to physical training every week to improve his ability to complete tasks without assistance. Since he was unable to do things himself, a close friend, Duncan Moffitt, was there to assist him with all of his needs. 
   "I would hangout with him before basketball and after basketball, we were with each other a lot more than usual," said Moffitt.
   As Robinson continues to improve as the days go on he is now able to walk on his own and without the use of his walker that he had to use for months just to keep his balance. Robinson is now able to drive again, which makes Moffitt's time with Robinson shortened. 
   "Surprisingly, I do miss taking him everywhere and taking him to school every morning. It is good to see him driving again and know that he continues to get better everyday," said Moffitt.
   These changes affected his daily life and made it very hard for him to have a positive mind set after all of the unfortunate news.  Luckily, Robinson is continuing to grow and is doing his best to keep a positive mindset on all the unsettling events.