Travis Scott cancelled after shocking tragedy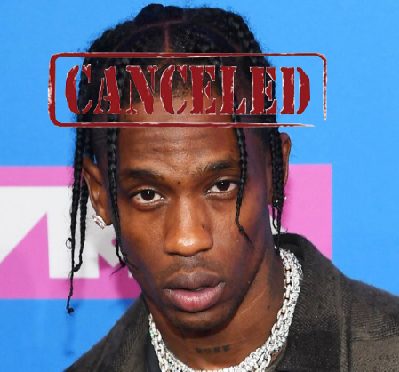 Astroworld, a music festival organized by Travis Scott, took the lives of 10 people during the concert and hospitalized hundreds more, some of which are still suffering injuries. From Scott's irresponsible tweet, lack of formal security, and ruthless crowd, people are speculating who to blame for this incident. 
   Though it is uncertain as to why the crowd of 50,000 people headed towards the front of the stage, the concertgoers listened to Scott's tweet, advising his fans to sneak into the festival, which resulted in a max capacity overflow. 
    Freshman Olivia (Liv) Lounds was never a huge supporter of Scott's music, but is now extremely disgusted with him. 
   "I feel like the tweet Travis made, allowing his fans to sneak in, contributed heavily to people getting hurt and dying, and it makes me extremely upset seeing how an influencer could be so irresponsible," said Lounds.
   Not only were people upset over this incident, but they were also outraged with Scott's poor apology. In his "apology" video, the inability to look at the camera, the touching of his face, and how he never actually apologized, are the main contributors to the disliking of Scott's response. 
   People are also recognizing the reckless crowd and security that was present at Astroworld that night. Many individuals were dancing on the medical cars that were attempting to help the numerous injured people and standing in the vehicle's way. 
   Travis Scott is now being sued for $745 million over the incidents. One family in particular, the Blount family, is suing Scott for at least $1 million after their nine-year-old son was pronounced dead after suffering fatal injuries in a Texas hospital. 
   The nine-year-old, Ezra, was on his father's shoulders when the crowd plodded towards the front of the stage, crushing the father and causing him to pass out due to lack of oxygen. This led to Ezra falling to the ground and being trampled to death. 
   Sophomore Jordynn Elayyan has never been a fan of Scott's music, but this event only confirmed her disliking towards him.
   "I have seen a video of a teenage girl screaming and begging for a cameraman working at the concert to call the police because there was a dead body on the floor, it was completely heart-wrenching," said Elayyan. 
   Scott and his team's inability to end the concert earlier than planned for peoples' safety is causing outrage amongst fans and parents.