Junior wrestler finds success, looks to the future
Haselius strives to win in every match
   Many athletes find a particular sport that they enjoy and continue beyond their childhood. Junior Adam Haselius found a sport that he loves, and it is beginning to benefit him immensely.
   Haselius, a wrestling team member,  recently competed and placed at the state level. As a result, he also moved on to participate in national tournaments. Going to these tournaments has challenged Haselius to face the top wrestlers in Michigan, but it has also allowed him to compete against the best of other regions.
    "Once you are at the top level in the state, you look for competition [nationals] that is going to push you past that level. You face guys [at nationals] who have also won in their own state," said Haselius.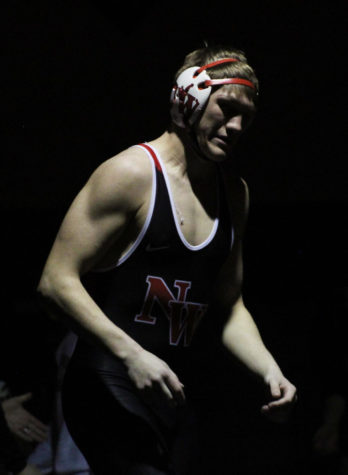 After winning these competitions and placing, Haselius can now look at wrestling in his future. Participating for so many years has given him the chance to truly see life as a wrestler, which ultimately helps decide whether or not he wants to live his future as a full-time wrestler.
   "I had a big summer, and it really helped open the idea of wrestling in college. I think it's something I'll end up doing, and it's pretty exciting," said Haselius. 
   All of this news surrounding Haselius has had a significant impact on his wrestling program this winter. Junior Braden Gariety has wrestled with Haselius, and has been inspired by Haselius' strong work ethic and determination. Younger players will look up to him and aspire to succeed while pushing themselves to be better.
"Adam has had success, and having him on the team will drive people to work harder just like he does," said Gariety.
   Another wrestler on the team is Junior Zach Jacobs. Jacobs has been wrestling for many years, and similar to Haselius, he has a driving passion for the sport.
"We have both grown up together wrestling, so seeing him succeed has been very rewarding to watch," said Jacobs.
   Being skillful at a sport takes time and effort. Haselius' success proves that hard work does pay off, and he will continue to grow, inspiring current and future athletes to put in the work.