Popular show moves forward with new name and cast members
Broadcasting members keep Northwest High School students engaged with their creative videos.
   Northwest High School may have a new tradition involving cameras, microphones, and chasing students and staff. 
   The Mountie Nation Station, an advanced broadcasting program, has broadcasted many different segments of student-made shows to the school. Last year, a senior, Jacob Weldon, started Jacob in the Halls. This was a show dedicated to asking people throughout the building random questions on camera.
   Weldon's project was not concurred alone. Weldon had the help of his friend, co-editor, and cameraman, Owen Khon. Now that Weldon has graduated, Khon has taken the position of front and center. This year it is Owen in the Halls.
   "I made the logo for the show, and I am very confident he will do a good job," said Weldon.
   After watching the show progress last year from behind the camera, Khon has the ability to bring new ideas to the table. Being in front of the camera and the face of the show can be a big transition and is not for everyone.
   "It was a little weird at first, but you get comfortable in front of the camera and learn not to care about what people think," said Khon.
   While many changes may occur, one thing that will never change is that this project cannot be done alone. Khon's sidekick is friend, and fellow cameraman,  Junior Isaiah Florek. 
   "Owen is really fun to be around. I love going around the school and filming with him," said Florek. "I get to see how Owen acts behind the scenes and all the time, that is probably my favorite part."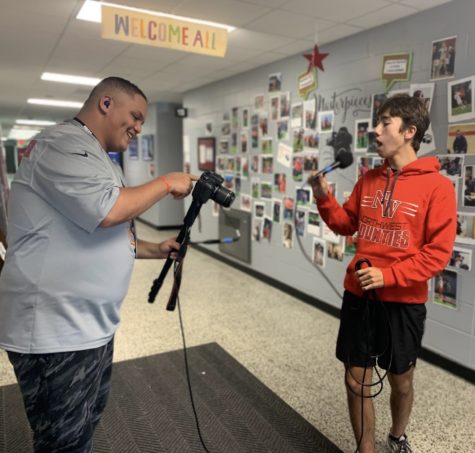 Doing such a fun project together can be a significant impact on a relationship and drastically grow a friendship. 
   "We both enjoy producing videos and understand each other on a different level," said Khon.
   Whether or not the cameraman taking over will be tradition isn't known. For now, there is a large amount of enjoyment in the process. However, the enjoyment is not only shared amongst the creators, it also is by those who view it.
   Freshman Mathew Horvath is a dedicated fan of the show.
   "I love how he surprises his 'victims.' It is something I find very funny," said Horvath.
   While it may be entertaining to watch, the relationship beginning to develop between Khon and Florek can be noticed and appreciated by viewers. The creators of the show can add to the overall enjoyment as well as help the show be better produced and uplifting. 
   "They always make sure they are both on camera, so the viewers know who is recording as well," said Horvath. "I enjoy getting to see who is behind the camera."
   Not only is the show shown to the high school, but it has recently started to be played for the rest of the community schools.