Behind the scenes: Equestrian trainers meet competitive demands
Behind the scenes of the hectic life of an equestrian.
   Equestrians put their blood, sweat, and tears into doing everything possible to make sure their horses are happy and healthy. Sophomores Ava Conner and Lailah Moten understand this, along with multiple World and Congress Champion trainer, Travis McColley. As an owner, horses require a lot of manual labor.
   "I clean stalls; I feed them grain and hay two times daily, morning and night," said Connor. "It really takes a toll on me and my free time." 
   When owning horses, equestrians schedule their life events around their animals.  They know that they have chores two times a day, so they do not plan on attending events within that time period. 
   "I feed morning and night, water multiple times a day, and ride my horses in training almost every day. I missed my sister's wedding because I was at a horse show," said McColley.
   On a professional level, trainers miss meaningful life events because their clients need them to make improvements to their horses or business.  Along with the professionals, horse owners tend to miss out on a lot due to the drastic amount of attention horses need to survive in captivity.
   Owning a horse can teach you a lot, but it is also a lot of work.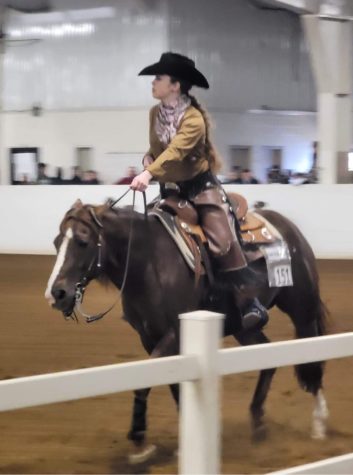 "I learned proper sportsmanship and how to handle winning and losing. I also learned how to properly care for something dependent on me to survive," said Connor.
   While showing horses or riding in general, the horse feels its rider's emotions and tensions. As competitors, they need to collect themselves quickly when they are upset, so the horse does not get upset also. 
   "Although I lease a horse, I have learned that owning a horse is a huge commitment. Time, hard work, disappointments, and financial stress are all things you have to deal with while owning them. But I also get to experience amazing moments and learning experiences," said Moten. 
   Not only does this sport create a high-stress environment, but the physical side of it is also impactive in both aspects, positive and negative. 
   "The mental aspect is the worst part. Pressure to be the best, stress when my horse is hurt, or trying to get everything done is difficult," said Moten.
   The equestrian community thankfully has each other to lean on, but sometimes self-doubt catches up with you. Passion for the sport drives equestrians to keep going. 
   Horse owners put all of their time, money, and energy into their animals, but usually, equestrians feel the positive outweighs the negative.