End of the tennis season brings 'bitter-sweet' feeling
Senior players reflect on brotherhood and legacy they are leaving for their team
   As the tennis season comes to an end, there are a lot of emotions that come with it.
   Varsity Tennis Coach Ron Woodruff has expressed his feelings about the end of the season.
   "When you have such a successful season, it's sad to see it come to an end," said Woodruff.
   The Northwest tennis team has had the most successful season ever, and they have beaten previous school records. The team placed fourth at regionals and had five wins, as well as placing second in the conference. 
   "This is probably the hardest year with losing guys graduating," said Woodruff. "You build connections and relationships with those guys, and they're all good people, and it's hard to lose good people."
   Senior Kaleb Kittinger-Munro has been playing tennis since his Sophomore year and has stayed on the team throughout the off-season.
   "I feel this was the best season I've had," said Kittinger-Munro. "We beat Lumen for the first time ever this season, and it feels great to make history."
   Since Kittinger-Munro is a Senior, he will be leaving his underclassman friends and partners.
   "I feel connected to Sophomore Gavin Rush and Junior Garrett Waldron because when you're doubles partners with someone, you end up spending the whole season with them, and you get to know them as more than just a player," said Kittinger-Munro.
   Senior Mason Schroeder describes the end of the season as a bitter-sweet moment.
   "I feel the brotherhood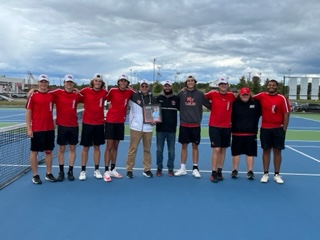 made with my teammates has been very beneficial to me, and it's sad to have to say goodbye," said Schroeder.
   With the sadness of his senior year present, Schroeder also felt a sense of accomplishment since he met his personal goal this year.
   "My goal was to get a better seed in the conference, which I did," said Schroeder. "I took fourth this year from last year's seventh."
   The connections made between players and coaches are a very special element that plays a major role in the team's function.
   "I am super connected with all my teammates and coaches. The friendships have made this season memorable, and I will forever be grateful for my opportunities," said Schroeder.
   Even though the season comes to an end, it can be challenging, especially when seniors play their last game with a team they appreciate.