Seniors generate tennis success
Leadership drives varsity tennis to greatness
The Northwest boys' tennis team accomplished many firsts which included breaking records. The program was overdue for a historic season, and this year proved to be its best. Much of this success can be attributed to the strong leadership of the senior class.
   Over the past ten years, the team has moved from the very bottom of the Interstate 8 (I-8) Conference to placing second this season. The program went from having no team and unusable courts to being a contender with an amazing new facility. Again, this year's senior leadership played a significant role. 
   Three seasons ago, they "flipped a switch" and became highly dedicated to winning. This was the same year that the current one-singles and one-doubles, Karson, Landon, and Mason Schroeder, joined the team.
   The following year was when the whole program had a major shift toward success. In 2020, the tennis program received many new players that now fill a majority of the varsity positions.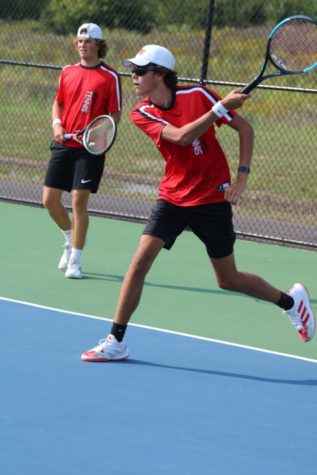 Before these new athletes joined, the tennis program could barely fill a full varsity roster. The team hardly had any players that could relieve injured or exhausted starters. This depth has allowed the team to keep its starters healthy and ready to compete against highly skilled opponents.
   In the 2022-23 season alone, Northwest finished second in the I-8, defeated Lumen Christi, and finished with a record of 14-2 in dual meets. Seniors Karson Schroeder and Landon Schroeder broke a school record by going 20-4 for the season which is the best single-season record set by a singles player or doubles team.
   "I feel a sense of gratefulness," said Karson Schroeder. "I had never picked up a racket until my freshman year, and I never thought that I would have broken the school record in wins, especially at the highest doubles spot."
   Freshman, Mason Beecher, was the only Freshman to play on the varsity team this year, and he played four doubles for the season. He understands how much the current senior class has helped the team win. 
   "Next year, it will be extremely hard for us to get to the places we have been this year because of all the seniors leaving," said Beecher.
   After having this terrific season, the tennis program has now given itself a bigger name in the tennis scene. The underclassmen, who witnessed history, will now have to step up if the success is going to continue.