Golf Team Overcomes Slow Start
   Fall sports sometimes have a rough start, but for the girl's golf team it was unexpected. Coach Tom Butterfield started his first season as the girl's golf coach with very low numbers. In the beginning, Butterfield was still trying to find enough girls to field a team. In order for the team to participate in tournaments, they needed more girls. 
   "When we started the season we only had two girls who came out for the team. Since I don't work at the high school, I had to rely on word of mouth from those girls and the athletic office to spread the word," said Butterfield. "Before long we ended up with seven." 
   Five out of seven had little to no experience playing the sport. For most of them, it was a very spontaneous decision to join. Junior Ava Rose was among those newbies. 
   "I joined after I saw the email where they were asking for more girls. I just really wanted to try something new," said Rose. 
   At first, their practices consisted of one hour on the driving range and one hour on the putting green, but as the girls got more confident and their skill set progressed they started playing a few holes on the course after warming up at the driving range.
   "I have seen a huge improvement in all of the girls on the team; some of them were even able to cut 20 strokes off their 9-hole score," said Butterfield. 
   The girls contribute this improvement to their training schedule.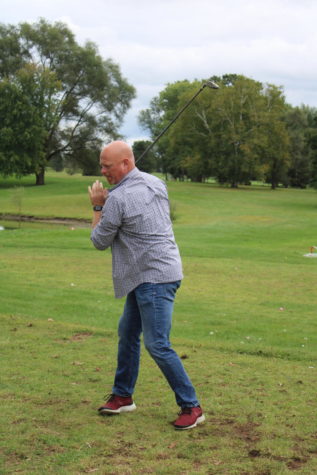 The team's tournaments consist of three or four girls (one from each team) playing in a group together. The girls all keep someone else's score to minimize cheating.
   All of the tournaments were played at away courses because Northwest does not have a home course. Some of these courses consist of Arbor Hills Golf Club, Marshall Country Club, and Cedar Creek in Battle Creek. 
  "We did the best we could considering we had no competition experience," said Butterfield.
   Although the team finished last in all their tournaments, Butterfield expects to see many improvements next season. 
   "I am very surprised with how far I have come as a player over the last year, said Rose. " I am excited to see how I will progress next season."
   Even though the team finished off the season with no wins, they are very excited to see what the next golf season will bring.