Be More Kind Club creates efforts to improve school, recognized by Fox 47 News
Be More Kind Club recognized for their impact on students
   The Be More Kind Club was established at Northwest High School 13 years ago. Teachers established it after participating in the "Be The Change" Challenge Day.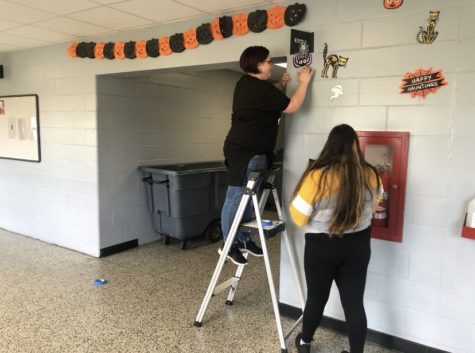 Be More Kind was established to promote wellness and helping others. It started as a leadership class during Miss Marnie Hade's seminar. The group then raised enough money for the "Be The Change" organization to come from California. Soon after, they voted for the name to be changed to Be More Kind. 
Rebecca Moulton, a Spanish teacher for 28 years, is an advisor for the Be More Kind club. She is advising alongside teacher Marnie Hade because she decided to aid this group to promote positive experiences. 
  "This group believes everyone can make a difference, meaning everyone is welcome to mention their ideas," said Moulton. 
   Due to this club being student-driven, most ideas come from the club members. They encourage being outspoken, and if you have an idea, share! 
  Sophomore Lindsea Baker, a club member, has been involved for two years. She enjoys the group because of the welcoming environment and the improvements she sees in herself. 
   "After joining, I see myself caring for my school environment more, along with the wellness and happiness of others around me," said Baker. 
   Moulton and Hade worked together with their students to get them where they are today. Moulton has been a huge inspiration to Baker. 
   "I love Mrs. Moulton's involvement. She's super fun to be around in meetings," said Baker. "She makes me feel like she truly cares about everyone around her." 
   Having a positive influence in a group organization is very important. It leads to an effective charismatic leading student body. 
   "The group continues the momentum of being positive," said Moulton. "We create and participate in activities that make students and staff feel welcome in our school community."
   Be More Kind has recently been recognized on the Good Neighbor portion of FOX47 News with Bob Hoffman and Russell Shellburg. They talked to the members in December to learn about the positive effects the club has had on the community, such as their involvement in the Adopt a Family program.
   "I enjoyed seeing the number of families we helped this year in Adopt a Family, where we supply presents and household necessities to families in need," said Baker. 
   Be More Kind meetings are generally held on Mondays twice a month. Although the time commitment for meetings is not extensive, it requires involvement in many other areas.
   "We have organized welcome tunnels, cake walks at homecoming, bonfires, positive post-it notes on lockers, clothespin compliments, and positive pins," said Moulton. "Our members have also aided in honoring local heroes, hunger bowls, cancer awareness missions, Socktober, cards for heroes, hat day collections, and Adopt a Family." 
   Overall, this club supports having a positive attitude, influencing others, and providing for people in need. Be More Kind is for all people and offers a welcoming environment for those around them.