Real Men Wear Pink
Football team continues cancer awareness tradition
   Every year athletes on a team have a day when they are handed their jerseys. Usually, these jerseys have just the team's name, but for the football team, one special jersey has someone else's name. It is more important than their normal home or away jerseys, and they wear them with pride. It is the annual cancer awareness jersey, and they wear them to honor people. 
   Wearing a pink jersey can mean a lot to players. Junior JR Morrow, who has been playing football for some time now, especially loves when he can wear his cancer jersey. It has an emotional impact. They feel different because they get to play in honor of a specific person.
   "When you wear someone's name on the back of your jersey, you feel like you're playing for something more than just the football team," said Morrow.
   The uniforms that the football players receive have a specific name on the back. Each player can choose a person to address on the back of their jersey. The chosen person could previously, or currently, have cancer. Players also have the option to address an individual who has passed away from cancer. 
   Sophomore Maddox Grimes is a kicker on the football team. Grimes wanted to represent someone close to him that he had lost.
   "I had my Grandpa Kip Grimes on the back of my jersey. We were really close, and sadly he passed away from cancer," said Grimes.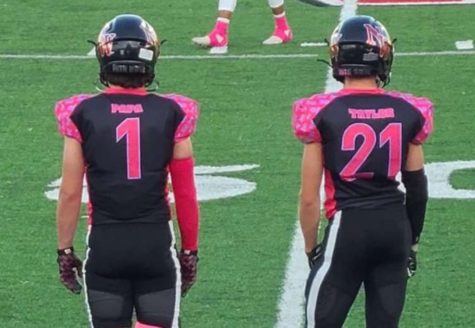 Unlike most school sports teams, the players who receive a jersey for this special game get to keep it after the season.
After the game, players are able to take it with them, and it is the player's choice to either give it to the person they are representing or keep it for their own.
Senior Lucas Stetz, who played on the football team, ordered a cancer jersey to wear and decided to give it away.
   "We get to keep the jersey or give it to someone special, and I gave it to my mother who battled cancer and beat it," said Stetz.
 "It made me feel really good to know that I played for her and to be able to see my jersey hung up in the living room every day," said Stetz.
   These cancer jerseys are just a small way Northwest shows cancer support and brings awareness to the fight.