Students form jazz band and begin performances at One North
   Juniors Elijah Haldane and Connor Campbell's love for playing instrumental music has led them to take the next step in musicianship and performance by forming a small jazz band, Jackson Art Ensemble.
   Although they are still considering recruiting a few additional members, the current band includes Ben Crockett. Age groups in the band may vary from high school students to adults.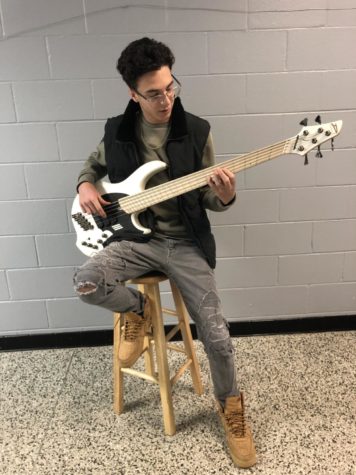 Haldane, the manager, deals with booking gigs, managing money, scheduling people, and communicating with the venue. They perform at Jackson Coffee Company, events at JCISD, Spring Arbor University, NWCS, and occasionally weddings. 
   Jackson Art Ensemble has also had the opportunity to perform weekly at a local restaurant, One North. 
 "When we first started, I thought it would be difficult to find business since most places in Jackson do not use live music to entertain their guests," said Haldane. "However, business came smoothly, and we started off on a good foot."
   Aside from the little recognition they have received from performing at One North, the Jackson Art Ensemble does not often get recognized aside from teachers.
"We did not know where we wanted to go, it was mostly just a fun thing Elijah and I wanted to do, and now we are starting our own band. He was the one who wanted to get into it, and I am just happy to be a part of it," said Campbell.
   The band plays a genre known as "fake books," which consists of melodies and descriptions of the feel of a song. Their music also includes solos and compositions written by each band member.   
   Whenever the Jackson Art Ensemble is performing, they experience a rush of adrenaline unmatched by any other feeling. The smiles in the audience, paired with that feeling, encourage them to keep playing.
   "I hope people hear about us and want to support us. It would be a dream to have more people and a full band that we can write and record with," said Haldane.
   Jackson Art Ensemble still gives it their all each time they perform and hope to attain a larger fanbase someday.