Long time dedication
For 27 years teacher finds passion in educating students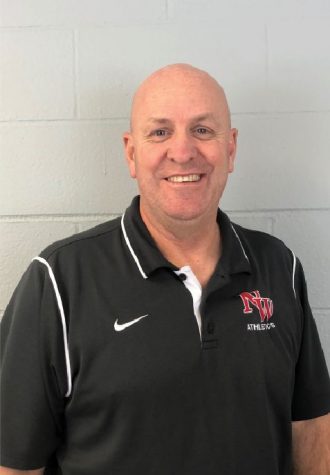 When AP Calculus students walk into teacher Mr. Brian Klinger's classroom late, they can always expect a sarcastic comment such as, "way to be on time" or "look who finally showed up."
Even though Mr. Klinger is sarcastic, he is the type of teacher and friend that anyone can talk with and receive an honest and wholehearted response. This holds true when it comes to academics, friendships, and religion.
"I love his heart and the fact that he listens to it," said literature teacher Mrs. Rebecca Bortnichak. "I think listening to his heart has a lot to do with his faith."
Mr. Klinger hopes to see our school grow academically. Northwest has a lot of intelligent students and he wants to see more of them getting accepted to Ivy League schools.
"I think Mr. Bontrager has done a great job of changing the culture and the attitude in the school positively," said Mr. Klinger. "I would really like to see us focus on academics with that same kind of vigor and attention."
Mr. Klinger loves that Northwest is close to his family, but now that his son is stationed in Virginia, he wants to move closer to him.
"Our hope is that we can move closer to my kids and grandkids," said Mr. Klinger "I'll look for a teaching job down there, but it [moving closer to his kids] depends on my parents' health."
Mr. Klinger has been an exceptional teacher in the math department for many years. He has been teaching AP Calculus since his second year and many students thrive in his class.
Since he instructs his math classes so well, it will be difficult to find someone as dedicated and inspirational as him.
"Mr. Klinger has been a department head, a leader, and a great teacher," said Principal Mr. Buchler. "He has made a lot of growth with students in the classroom, and it will be hard to replace him. As a person he is sarcastic, funny, and a loyal guy."
Mr. Klinger started by working in a factory and claimed to hate it. After that, he went back to college to become a teacher, and because of this he did not start teaching as early as others. Although, he has always known where he wanted to work.
"From day one of college, this was the school I wanted to teach in," said Mr. Klinger.
Mr. Klinger has been at Northwest since 1991. He began his career here by student teaching and volunteering with the baseball team.
In 1992, he started working here as a teacher and a baseball coach. He has taught here for almost 27 years and he coached for 25.
Mr. Klinger has brought many different levels of leadership and support to those he influences. The impact he is making has been substantial for the growth of students academically and personally.