Equestrian team rides to a successful season
   Many students at the high school are unaware of the Northwest Equestrian Team and what they do. The Equestrian team has been riding through their success, which includes regional and state competitions. After succeeding at regionals, the team recently had the opportunity to compete at the highest level, states. 
   Sophomore Rachel Keeler, a member of the Northwest Equestrian Team, finds enjoyment working with her horse, Honey. Rachel's passion for horses started in fourth grade, although she could never join the team because she had not owned a horse. However, her passion did not go away, and she eventually joined, and now has the opportunity to show, walk, trot, and canter.  
"Moving up means in age and capability, and now showing, walking, trotting, and cantering has much more responsibility. You have to have more confidence in yourself and your horse, as well as more stability and control," Keeler said.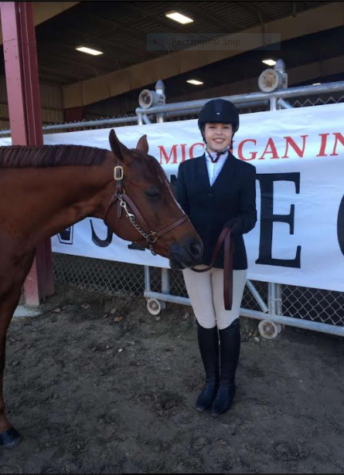 There are not many classes shown cantering, such as pattern classes, showmanship, and halter in-hand classes. These are where riders show on the ground leading the horse around, showing off the horse's capability. These classes are different from riding classes, which show off the rider's capabilities to control their horse professionally. 
   "We practice hand patterns. We may have to redo it a few times, just because it is such a difficult thing to comprehend, especially for the people who are new to them," said Keeler.
    There is much more to the Equestrian team than showing. Before the fun, riders have to be serious because practices are to work, prepare, and get advice from your advisors.
    Sometimes the coaches are not always there to aid the girls, but numerous girls will gladly help if needed. The girls are always there for their team members.
   Being a coach on the team can be a challenging task to comprehend. There is so much to plan for shows, such as paying funds and bringing in sponsors and advertising. Donations are a big part of planning, and sometimes they have to make sure the girls have enough clothing to show in, tack to use, and materials for their horses. 
One of the coaches, Angela Klobuchar, has been coaching and guiding the Equestrian team for quite some time. 
"Any kind of support is helpful. We always do fundraisers and sponsors to keep families from paying the coaches. We try to keep it as affordable," said Klobuchar.
   "If people were interested in donating, it would go into things like paying for the show fees, but then also things that add to the team," said Klobuchar. 
   There are times when the team has new riders that do not always have a horse to ride, so the coaches sometimes have to accommodate and brainstorm new options. They are not always capable of making these changes, but they always try.
   "We have before signed up one person as a group because they didn't have a horse but wanted to be a part of the team, so they still came to all of the practices and meets," said Klobuchar. 
   As some may know, the Equestrian team is always looking for new members to join the team, learn, face challenges, meet new people, make new bonds, and so much more.
   During regionals and states, the Equestrian team competed under Division C, and the girls had to maintain good grades because they often missed school to go to regionals and states. 
 Overall, the girls placed well at regionals and earned a spot at the state competition. They did not win at states, but they tried their best and learned from the experience.
    There are many challenges that these girls faced, but that is what the Equestrian team stands for, accepting challenges and facing fears.