Fall Sports Rewind
A look back on the success of the Northwest fall sports teams and athletes
   With the fall sports season over, let's look back on all of the achievements and accomplishments, as well as future expectations. Five different sports were played during the fall, including boys' soccer, boys' tennis, football, girls' volleyball, and cross-country. 
Cross-country
   Junior Stacia Hedrich, a runner for the cross country team, believes that they had a successful season and plans to build on it in the future. The cross-country team, mixed of both boys and girls, have a severe challenge to face in the future with the loss of three senior leaders.
   "These seniors have been leaders. They are runners I have looked up to since I was in ninth grade," said Hedrich.
   The team's future expectations are to place higher in competitions, and Hedrich's personal goal is to get her fastest time in a race next year.
Overall, they placed in the lower half of the conference.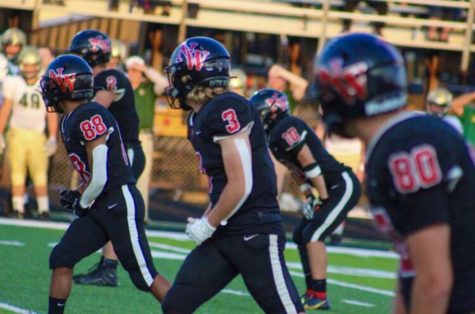 Football
 Playing every Friday night, the Northwest football team competed to win each game and ended with a final record of 1-8.
Sophomore Braylon Grybauskas plays multiple positions and is a valuable player. He plans to continue working hard with others on the team. 
Throughout the season, many players were working very diligently, and this mentality of hard work is what they think they need to bring every game. 
   "We lift and do speed training many times a week when we are not playing football, and many do lift on their own. This attitude will lead to our success later in the future," said Grybauskas.
Volleyball
   Not all fall sports are played outdoors. The Northwest volleyball team fights to win every set inside on the court. The teams had a notable season with a record of 15-21-4, and they are looking forward to next year. Junior Hailey Rowley, an outside hitter on the volleyball team, is very excited. 
   "As a team, we will have to work harder since many seniors are leaving, but I think we can do it," said Rowley.
  Boys' tennis
 After a great season with a new record of 13-3, the tennis team prepares for the departure of numerous players. Next season, along with the addition of the brand new courts, they will have to replace five seniors. 
The team proved to be successful, placing in the top at regionals. Senior Brogan Buchler believes that the team is in good shape for his departure because he knows many players will step up into leadership positions afterward. 
   "The players that will be playing next year have the love for the sport of tennis, just like my senior class did, and they continue to put the work in," said Buchler. 
 Cheer
  Along with other sports, the Northwest cheer team is very successful. Junior Kyleigh Tindall was pleased with their season and had a lot of fun. 
   "Interactions with the student section were very enjoyable," said Tindall. "The crowd at all of the games was fun and supported us greatly."
  The expectations are high next year, and Tindall looks forward to having a large team next season.
Boys' soccer
The final fall team was the boy's soccer team, mixed with multiple grades and lots of senior leadership.
Junior Kiegan Cowan, who plays center midfield, believes that the senior class's positive impact on their season has allowed them to be successful.
   "Next season will be different with all the seniors gone, but luckily we have guys to step up. Since we placed 6th in the conference, there is work that still needs to be done," said Cowan.
   The future for all the team will depend on offseason work and underclassmen stepping up, but all teams are hopeful next season will be successful. 
   Fall sports teams this year have had much success and many accomplishments that will continue into their upcoming games.