Northwest's pep band continues legacy
   After years of success, the Mountie pep band has become very well known. Bryan Mangiavellano, the band teacher at the high school, is the lead director of this compact ensemble.
   This group has been performing at sporting events since 2004, but in 2008, it was cut due to economic recessions. However, it returned shortly after in 2014.
   Beginning in early November, a limited number of rehearsals and difficult music made this band a challenge. Since this group is roughly one-fourth of the band students, most have to attend a try-out to be admitted to the band.
   Senior Khrystine Weesner,  the assistant director, plays the Alto Saxophone and has been a member of the pep band since her sophomore year. She finds that playing at the games allows her to make a positive impact. 
   "I enjoy supporting the basketball team while they play because it's fun to watch them do well and also to play music in support of them," said Weesner. 
   Since Friday night basketball games bring out a number of alumni, community members, and students, Mangiavellano often gets many compliments.
   "I get constantly complimented by our community. The thing about the pep band is that it showcases the band to a brand new audience. Every game is a new crowd," said Mangiavellano.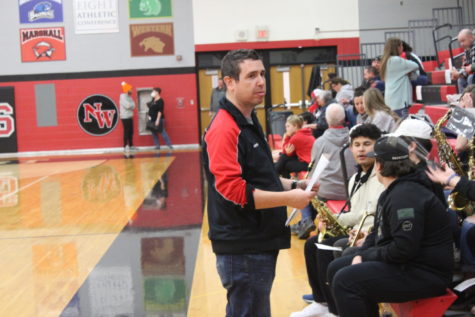 Time outs, pregame, and halftime are when you would hear the trending pop music among some older throwbacks. The music selection Mangiavellano chooses each year is always very popular among his students. 
   "The music we play is marching band arrangements of pop songs. Without us playing during these intermissions, the gym would be very quiet, and there would be no cheering going on," said Weesner. 
   Varsity basketball player, Junior Stacia Hedrich, is a member of the band, but she is not allowed to play in the pep band due to her being on the court. However, she enjoys all of the support that she and her team receive. 
   "I find the pep band fun, and they have so much energy. They are always locked in and cheering on the game," said Hedrich. 
   Mangiavellano and the members of the band hope to continue to impress each new crowd they come across in the years ahead.