Student teacher from MSU is grateful for opportunity
Co-directing the bands with Director Bryan Mangiavellano proves 'Inspiring'
   The Northwest bands will often take on a college undergraduate or graduate student to help manage the bands under Director Bryan Mangiavellano. This year, the opportunity was given to student teacher Miss Amelia Mills.
  While attending college at Michigan State University, Mills always wanted to be involved in music and aspired to be a director of her own band. When she was offered the student teacher position at the high school, she was "super happy." 
   "I chose Northwest because of the variety of music classes offered there," said Mills. "The guitar class, piano and composition class, and soundtrack class were interesting to me and I thought it provided more accessibility to music education for students who don't connect with the band world."
   Showing up during marching band season, Mills was able to experience the other side of marching band, teaching rather than playing. In college, she was a part of the saxophone section in the Michigan State Marching Band. 
   "Marching season provides so many opportunities for developing student leadership and for students to play the music that they recognize and enjoy," said Mills.
   Senior Emily Zielinski, the flute section leader in the marching band, loved how involved Mills was in the program's success. 
   "She took some pressure off Mr. M by being able to control the class when he was busy and allowed him to do other important work during class," said Zielinski. 
   Zielinski has seen past student teachers who oversee the band, and she explains how this adds a new perspective to how people teach music.
   "Miss Mills was helpful when it came to advice about how to learn certain sectio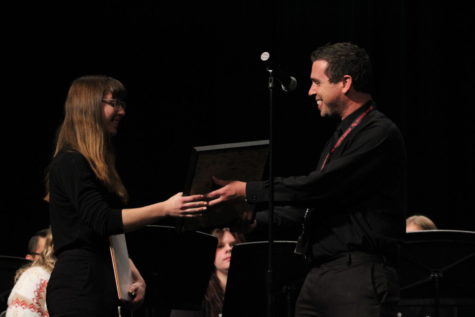 ns of music, which I really enjoyed," said Zielinski. 
   Since her completion, Mills is now grateful for the opportunity to teach alongside Mr. Mangiavellano and learn about how he leads a band.
   "He makes an effort to know all of his students and the surrounding community, and the way he brings people together through music is inspiring," said Mills. "He was supportive and kind and full of great advice whenever I needed it. There is so much information and wisdom I learned from him that I will take with me into my own career."
    Since Northwest was Mills' first opportunity to teach in a high school setting, she explains she will miss the moments dedicated to the band and all the connections made with students. 
   "Northwest is different from anywhere else I've worked at or visited. The students, teachers, and administration made me feel so welcome. I wish I could have stayed the whole school year to see what the music students achieve and how much they'll continue to grow," said Mills.
     Looking toward her future, Mills plans to continue teaching students at different school districts and to find a job teaching middle or high school bands.